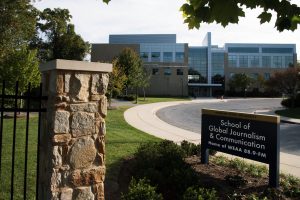 Congratulations to WEAA 88.9 FM on its recent recognition from the Chesapeake Associated Press Broadcasters Association. Several of WEAA's programs along with station personnel were included among the association's "Winners of 2018" announced this summer in Ocean City, Md. In all, WEAA received honors in five different categories, earning the top spot in two: Outstanding News Series and Outstanding Talk Show.
The following represents all of the categories recognizing WEAA-produced content airing over the past year:
RADIO/METRO
First Place Honors
Outstanding News Series: News and Public Affairs Director Julius White and Mykel Hunter of WEAA's "Mornings with Mykel" on "Frigid Schools, Heated Community" in Baltimore.
The association cited the following regarding their report: "Great job following this important story to the Baltimore community. There was exceptional tape of the parents. You could hear and feel their frustrations. This series captured us from the beginning and kept us to the end. Excellent community-minded reporting."
Outstanding Talk Show: Karsonya (Dr. Kaye) Wise Whitehead and Justina Pollard for their work "Today with Dr. Kaye."
Second Place Honors
Outstanding Editorial or Commentary: Karsonya Wise Whitehead and Justina Pollard for their commentary "On Resistance."
Outstanding Public Affairs: Farajii Muhammad for his work on "For the Culture with Mayor Pugh."
Multimedia/Online Journalism (Radio Only): Julius White for his work in delivering the daily news of the day.
Housed within the Morgan State University School of Global Journalism and Communication, WEAA 88.9 is the Baltimore-Washington metropolitan region's leading provider of jazz, locally produced talk, public affairs and news programming. For more than 40 years the station has upheld the mission behind its call long-time call letters of WEAA: We Educate African Americans.
The Chesapeake Associated Press Broadcasters Association represents broadcasters who are Associated Press (AP) members located in Maryland, Delaware and Washington D.C. The AP is a not-for-profit news cooperative representing 1,400 newspapers and 5,000 broadcast stations in the United States.