Service, by definition, is "the action of helping" and those who go above and beyond to meet this objective in an exemplary manner warrant distinction. Adding to the nationally-renowned faculty at Morgan, the School of Education and Urban Studies' (SEUS) Jacqueline Holland, Ed.D., has been recognized by the nation's leading organization for family and consumer sciences, the American Association of Family & Consumer Sciences (AAFCS). At the organization's recent annual conference, Dr. Holland was honored among the 2020 Distinguished Service Award Honorees for her significant contributions to, and longstanding advocacy of, the family and consumer sciences (FCS) profession. Dr. Holland has been at the forefront in aiding the progression and sustainment of the field of family and consumer sciences through her work and her stewardship of aspiring young professionals in the field.
"The DSA [Distinguished Service Award] is the highest honor a member of the Association can receive, and I am truly flattered to be one of the 2020 award recipients," said Dr. Holland. "Family and consumer sciences professionals work in diverse practice settings, including communities, education, business and industry, government, and health and human services and through my work with the AAFCS—and here at Morgan—I am passionate about mentoring pre-professionals, creating opportunities for exposure and preparing them for career opportunities and professional development."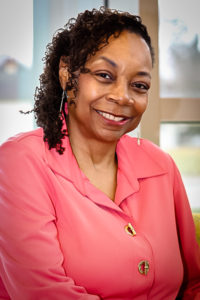 A tenured associate professor and interim director of SEUS's Family and Consumer Sciences (FACS) department, Dr. Holland is an active member of the AAFCS having served in a leadership capacity in numerous roles including AAFCS president (2017-2018), Diversity and Inclusion Chair, Nominating Committee Chair, Annual Conference Planning Committee, and the Membership Committee. Morgan's leading voice in FCS practice is also noted for her involvement nationally and internationally in the International Federation of Home Economics.
"Dr. Holland's career in the Family and Consumer Sciences profession has shown that she is a creative, conscientious, motivating and adventurous leader," commented Julia R. Miller, Ph.D., Professor and Dean Emeritus at Michigan State University and AAFCS distinguished member.
As Morgan's foremost FCS authority, Dr. Holland led the revision of Morgan's curriculum for FACS courses which was designed to underscore career preparation in the profession—particularly as the FCS industry aims to keep pace in an ever changing digital world. Outside the classroom, Dr. Hollands has been instrumental in positioning career-minded MSU students for success. From internship placements at the AAFCS headquarters and student-representative roles on the board of the National Coalition for Black Development in Family and Consumer Sciences (NBDFCS) to the first-ever HBCU student leader  to serve on the national Student Unit for AAFCS, MSU students have reaped the invaluable benefit of practical experience applying knowledge gain through academic instruction.
Dr. Holland has exemplified throughout her FCS career noteworthy contributions and achievements to build social, economic and human capital for individuals, families, and communities. With more than 35 years in the profession, she has provided leadership in the development of a mentoring program for new teachers, created opportunities to market FCS programs and the accomplishments of teachers, and facilitated the professional development of students and teachers. As an educator, research and service/outreach scholar, her leadership, followership and mentorship skills form the foundation for a pathway that our next generation of professionals can follow, to make a difference in the profession and societies globally.
Congratulations Dr. Jacqueline Holland on receiving the AAFC Distinguished Service Award. Her service to the FCS profession and leadership of Morgan's FACS Department is a model example of the Morgan Way!