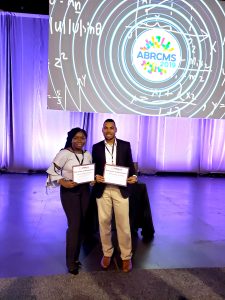 Congratulations to the 40 Morgan State University scholars who participated in the 2019 Annual Biomedical Research Conference for Minority Students (ABRCMS). The event, which was held on Nov. 13–16 in Anaheim, California, is one of the largest professional conferences for students from underrepresented groups pursuing advanced training in science, technology, engineering and mathematics (STEM). Morgan's contingent comprised 34 scholars or affiliates in the University's NIH-ASCEND Center for Biomedical Research, three students in Morgan's NIH-RISE program and three students in the WBHR-LSAMP program — all representing the next generation of health science researchers.
ASCEND scholars Marvellous Oke and Damion Trotter won awards in the  conference's oral and poster presentation event, which had more than 3,000 student participants. Oke, a senior psychology major, presented on the topic "A Machine Learning Approach to Predicting the Possibility of Seizures During an Admission for Intracerebral Hemorrhage." Oke conducted her research as part of the CLIMB-UP program at the University of Buffalo. Damion Trotter, also a senior psychology major, presented on "The Sleep-Wake Architecture of BACHD Mouse Model and Wild-Type in Relation to Sleep Deprivation." Trotter's research was done as part of the UCLA-HBCU Neuroscience Pathways Program.
Activities for the students at ABRCMS included professional development workshops, inspirational plenary presentations from leaders in biomedical research, networking opportunities and scientific seminars. The conference also introduced scholars to a number of graduate schools and internship opportunities.
ABRCMS is sponsored by the National Institute of General Medical Sciences' Division of Training, Workforce Development, and Diversity and is managed by the American Society for Microbiology.