Led by Faculty Advisor, Team bEar Buds Awarded $20K Runner-up Prize
Whether in person or in a virtual environment, Morgan State University students continue to shine and compete at the highest level. Recently, a team of Morgan student scholars, led by their faculty advisor Dr. Edward C. Dillon, an assistant professor in the School of Computer, Mathematical & Natural Sciences' Department of Computer Science, participated in the AT&T HBCU Innovation Challenge. Competing virtually against 16 other Historically Black Colleges and Universities (HBCUs) from across the nation, Morgan's Team bEar Buds earned second place honors and a prize award of $20,000 for developing an innovative software solution that translates both Black American Sign Language (BASL) and American Sign Language (ASL) into plain text or audio. First place and an award of $50,000 went to Howard University while Spelman College came in third place.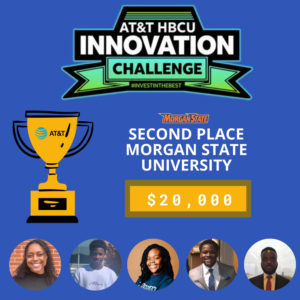 The five-person Morgan team consisting of seniors Ayomide Ajayi (Computer Science), George Makunde Martin (Computer Science), Kiley Williams (Information Science & Systems) and sophomores Martin Adu-Boahene (Information Systems) and Ogo-Oluwasubomi (Subomi) Popoola (Computer Science), were challenged by AT&T to evaluate society's reliance on telecommunications to communicate, provide services and educate, and develop an innovative solution that leveraged AT&T's unused 5G infrastructure capacity. The response from Team bEar Buds was the development of "Bridge." Utilizing computer vision to track sign language in real-time and machine learning to process and predict the gestures, Bridge allows hearing users to translate BASL and ASL into an understandable text or audio format, thus revolutionizing the way that our world can communicate by seamlessly bridging the communication gap between the Deaf, hard of hearing, and hearing. The technology also translates speech into text for Deaf users.
For this year's competition, 25 student teams representing 17 HBCUs were asked to conceive novel solutions that use AT&T's available 5G bandwidth capacity to help underserved communities or population segments facing unique challenges. The solutions could be for healthcare, education, low-income communities, public safety or another focus area of their choosing. The winning teams were recognized virtually at AT&T and WarnerMedia's fifth annual AfroTech World – one of the largest multicultural tech conferences held in the United States.
Congrats to Kiley, Subomi, Ayomide, George and Martin for representing Morgan in answering the challenge and coming up with an innovative solution that helps people.