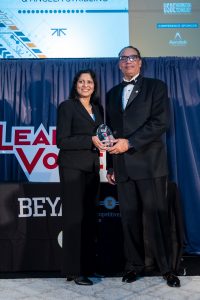 Dr. Viji Sitther, associate professor of Biology for Morgan State University's School of Computer, Mathematics and Natural Sciences, is the recipient of the prestigious 2019 STEM Innovation Award. The award, which is among the most competitive in science, engineering and technology management, was presented at the 33rd annual Black Engineer of the Year Award's BEYA Global Competitiveness Conference held in Washington, D.C.  Dr. Sitther was selected for this honor in national recognition of her innovative research, publications in peer-reviewed and outreach journal articles, conference presentations, and for mentoring students in entrepreneurship.
Dr. Sitther has developed a method to produce environment-friendly fuel from a photosynthetic cyanobacterium that uses naturally available sea water and the sun's energy. She received the TEDCO MII award to engineer salt tolerance in a model cyanobacterial strain. Her recent effort to enhance photosynthetic efficiency using gold and iron nanoparticles further improves the biofuel efficacy. These innovative discoveries have resulted in four patent applications for Morgan State University.
Conceived as a vehicle for promoting and celebrating the advancements in transformative research, the STEM Innovations Award is among the most celebrated awards delivered BEYA's annual conference. BEYA seeks to drive the innovation process, bringing it to the forefront by connecting and recognizing those that practice it at the highest levels at the nation's Historically Black Colleges and Universities (HBCUs). The award is only granted to individuals via nomination and selection following the rigorous panel review comprised of leaders representing industry, government, and academia.
This marks the third consecutive year that a member of the University's faculty was recognized at the BEYA annual conference. In 2018, Morgan's Dr. Kevin Kornegay was honored for his work in using reverse engineering techniques to unveil hardware security gaps that may exist in an Internet of Things (IoT) device and developing countermeasures to a prevent potential cyber-attack. And in 2017, Dean Emeritus Eugene M. DeLoatch was named as the "Black Engineer of the Year" for trailblazing progress in higher education during his 50-year career, while Dr. Yacob Astatke received a BEYA award for his efforts in the area of College-level Promotion of Education.
Congratulations to Dr. Sitther for all of her innovative research, inspiring Morgan students and continuing the streak of faculty excellence on the national stage!