Domestic Degree Programs Also See Expansion, with Proposed Addition of Master of Science in Advanced Computing and MHEC-Approved Bachelor of Science in Cloud Computing  
BALTIMORE — Morgan State University (MSU) is slated to establish an international presence on the African continent by way of a new pilot program. During the recent public session of the MSU Board of Regents' winter quarterly meeting, the Board unanimously approved a proposal for the university to begin offering three degree programs — a Master of Business Administration, a Master of Science in Global Multimedia Journalism and Communications, and a Bachelor of Science in Entrepreneurship — in partnership with the African University College of Communications (AUCC) in Adabraka, Accra, Ghana. The pilot program is scheduled to begin in fall 2020, creating opportunities for western African students to pursue degrees from Morgan. The collaboration marks a first of its kind for an HBCU in Ghana, with Morgan poised to join only a select few American universities offering degree programs in Africa.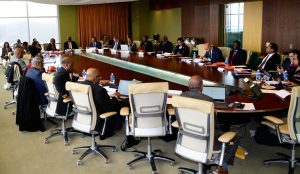 "Over the past five years, we have been very interested in Africa and have been eyeing expansion into new markets. We look forward to piloting these three academic degree programs in Ghana, and if this initiative is successful in attracting top-notch students and awarding them highly valued Morgan degrees, we will consider establishing a more physical presence in Africa," said Morgan President David Wilson. "So long as I am the president of this institution, Morgan will never be in stasis. We cannot afford to stand still. It is incumbent upon the university to always lean forward and continuously explore all viable opportunities in this rapidly transforming higher education environment."
Coinciding with the expansion abroad, domestically the Board also authorized the University to pursue the addition of a new Master of Science in Advanced Computing degree program. Pending Maryland Higher Education Commission (MHEC) approval, the M.S. in Advanced Computing would be the only degree of its kind offered at a Maryland university, and Morgan would be the sole HBCU in the nation to offer it. The availability of the program at Morgan would offer students a solid foundation in emerging areas of computer sciences such as artificial intelligence, cybersecurity, data science, machine learning and cloud computing.
In addition, during its fall meeting this past November, MSU's Board of Regents supported the addition of a new degree program in cloud computing. MHEC recently approved Morgan's request to offer a new Bachelor of Science in Cloud Computing beginning in fall 2020.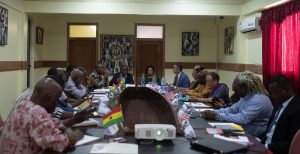 In January, an administrative team, led by Morgan's provost, traveled to Ghana for a site visit at AUCC, a University of Ghana affiliate institution, and to finalize the remaining details of the proposed collaboration. The arrangement calls for Morgan professors from the Earl G. Graves School of Business and Management and the School of Global Journalism and Communication to travel to Ghana to teach courses throughout the year to incoming cohorts. Each of the three degree programs would be offered in a hybrid delivery consisting of face-to-face and online instruction. Morgan is seeking at least 20 students to begin the pilot. An evaluation of the programs is slated for the end of the inaugural year.
Recent economic trends indicate that Africa will be the top emerging market of the 21st century. With 1.2 billion inhabitants (up from 447 million in 1980), more than 50 percent of them under the age of 30, Africa is projected by the United Nations Population Division to witness an accelerated population growth in the immediate future. Most African governments are allocating a significant amount of their annual revenue to increase access to primary and secondary schools for their young and rapidly growing populations. One area that the majority of African governments have not been able to expand rapidly is access to "tertiary education," or colleges and universities. At present, public higher education institutions in Africa can accommodate less than 5 percent of the overall demand.
"Morgan State University will deliver highly innovative M.S. and B.S. programs that fully prepare individuals to be global leaders," said Lesia Crumpton-Young, Ph.D., provost and senior vice president for Academic Affairs at Morgan State University. "These program graduates will serve as catalysts for economic growth and development throughout the African continent and beyond."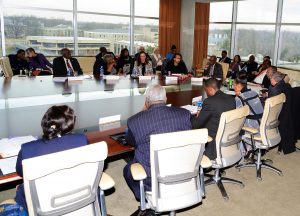 In response to a national need for a workforce skilled in computing, Morgan proposes to offer a Master of Science in Advanced Computing degree program, available both online and in a traditional classroom setting. Based on an innovative curriculum, the new program would be designed for students who have recently completed a bachelor's degree program in computer science and/or related fields and who wish to enhance their careers, explore research opportunities in computer science or apply their acquired skills in transdisciplinary teams or for a specific focus. With a one-year completion option, the M.S. in Advanced Computing would serve as a complement to the new B.S. in Cloud Computing.
"Morgan understands what employers, particularly those in the technology sector, are looking for from our graduates," added Dr. Wilson. "They need talent with particular skill sets, and we are bringing forth degree programs to provide those skills. Our students who are matriculating in these programs are going to be highly sought after, the world over."
Both the proposed transdisciplinary M.S. program and the B.S. in Cloud Computing will be managed by the Department of Computer Science in Morgan's School of Computer, Mathematical and Natural Sciences.
With the terms of a strategic collaboration agreed to in principle, the final affiliation agreement will require approval from the MSU Board of Regents. The Board's next quarterly meeting is scheduled for May 5, 2020.
COMPLETE SURVEY LINKED HERE TO LEARN MORE ABOUT MORGAN PROGRAMS IN GHANA
About Morgan
Morgan State University, founded in 1867, is a Carnegie-classified doctoral research institution offering more than 126 academic programs leading to degrees from the baccalaureate to the doctorate. As Maryland's Preeminent Public Urban Research University, Morgan serves a multiethnic and multiracial student body and seeks to ensure that the doors of higher education are opened as wide as possible to as many as possible. For more information about Morgan State University, visit www.morgan.edu.
# # #
MEDIA CONTACT(S):
Larry Jones or Dell Jackson, University PR
(443) 885-3022