Eight students from Morgan's School of Global Journalism and Communication (SGJC) recently traveled to Paris to film scenes for an upcoming documentary about the long history of black expatriates in the "City of Lights."
Working under the guidance of SGJC Artist in Residence Tim Reid, students from both the school's International Reporting and Reid's Documentary Filmmaking classes immersed themselves in French culture during their weeklong stay. Reid, an accomplished actor, producer and director, is no stranger to international research projects. In 2016, he along with a group of SGJC students and faculty, traveled to Cuba to shoot a documentary in collaboration with students from the University of Havana.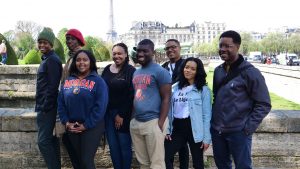 The documentary team consisted of SGJC seniors Devon Ashby (multimedia journalism), Simone Benson (multimedia journalism), Korey Matthews (multimedia journalism), Samuel Robinson (multimedia journalism), Jalysa Mayo (multiplatform production), Shadya Feyijinmi (multiplatform production), and juniors Zion Diggs (strategic communications) and Kadrie Lamin (public relations, advertising and media sales).
The goal of the project is to analyze and compare the experiences of black expatriates who moved to Paris in significant numbers during the 20th century, especially following World War I, through the current day.
The students filmed at a variety of historical locations in Paris, including the world-famous Eiffel Tower. They walked from the Champs-Elysees to Little Africa with guides Madame Ricki Stevenson, and daughter, Dedie Stevenson of "Black Paris Tours." Later, they interviewed a group of expatriates at a salon hosted by Madame Kathleen Dameron in her home near Saint-denis and St-martin Gate.
The trip, which was a great experience for the students, is one of several learning abroad opportunities organized by SGJC Dean DeWayne Wickham, who emphasizes the "global" the School of Global Journalism & Communication. Under his leadership, students also have traveled to South Africa, Greece and Cuba.
"The world is filled with stories waiting to be told and I'd like to see our talented students lead the way in telling them. And sometimes that means exposing them to different cultures and expanding the learning experience beyond the classroom," Wickham said. "In all of these trips, my goal has been to give students a chance to work in a professional setting, with professional expectations."
Students, who participated in the Paris project, returned to the United States with a newfound appreciation for global travel, as well as French and Black culture and its place across the globe.
"My favorite part of the trip was how friendly the French people were to us, even though we were newcomers into their culture," said Korey Matthews.
"Interviewing the expats, including having them all singing "Lift Every Voice and Sing" together, and the Black Paris Tour was my favorite part," said Shadya Feyijinmi. "So much knowledge was gained in those two days."
"I really enjoyed the soiree and getting to know the different expats, interviewing them about their unique experiences and cultural immersion," said Kadrie Lamin.
The students are now assembling, scripting and editing hours of video before the project is completed. The completed documentary should be ready by early summer.
Recap submitted by Samuel Robinson, a senior multimedia major in the School of Global Journalism and Communication