Independent Study Affirms University's Economic Vitality Fueling Jobs, Research Investment and Business Development
BALTIMORE — Morgan State University President David K. Wilson announced today the results of an independent analysis of impact indicators and fiscal contributions affirming that Morgan remains a key economic driver in the region, generating $1.1 billion in annual financial impact on Maryland and $640 million within Baltimore City. The new findings reveal an 11.1% increase in statewide impact and an 11.5% increase in citywide impact since the University's last commissioned study in 2018. The FY21 study, conducted by Econsult Solutions, Inc. (ESI), a national economic consulting firm, also found that Morgan is responsible for supporting 6,900 jobs statewide, nearly 4,200 within the City, accounting for $558 million in Maryland wages and $188 million in Baltimore.
As with Morgan's previous ESI-produced economic impact report, the methodology of this study and its findings focused on an in-depth examination of seven key areas: operations, capital investments, student and visitor spending, wage premium, commitment to community, innovation and economic opportunities to diverse populations, local and statewide.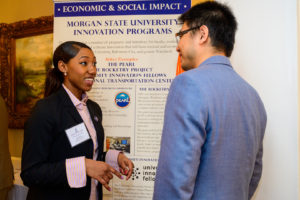 "The findings of this latest Economic Impact Update Report validate what we here at Morgan know all too well, that our university is, without question, unrivaled in its ability to impact lives, transform communities and spur economic progress that elevates not only the individual but our society as a whole," said President David Wilson. "We look forward to continuing to uphold our mission by producing results that make a difference, while offering tangible and measurable return on the investment that has been made into Morgan."
Paramount to the economic impact report are the outcomes detailed in relation to Morgan's research and innovation. Designated Maryland's Preeminent Public Urban Research University, Morgan has research and innovation at the cornerstone of its mission to produce meaningful scientific discoveries, spur startup ventures and tackle issues of strategic importance to the state. Adjusting in scale to account for disparities within the landscape of research universities (in Maryland and nationwide), the report's "Innovation Metrics" calibrates research expenditures per $10 million, revealing a significantly higher production rate for Morgan-based research output. Per $10 million in research expenditures, Morgan produced invention disclosures, new patent applications and other key innovation outputs (issued U.S. patents; option and license agreements; start-up companies) at rates considerably higher than Maryland and national averages — a key performance indicator of the ability to initiate new scientific breakthroughs. Morgan now generates from two to nine times the U.S. average of the stated metric outputs per R&D expenditure input.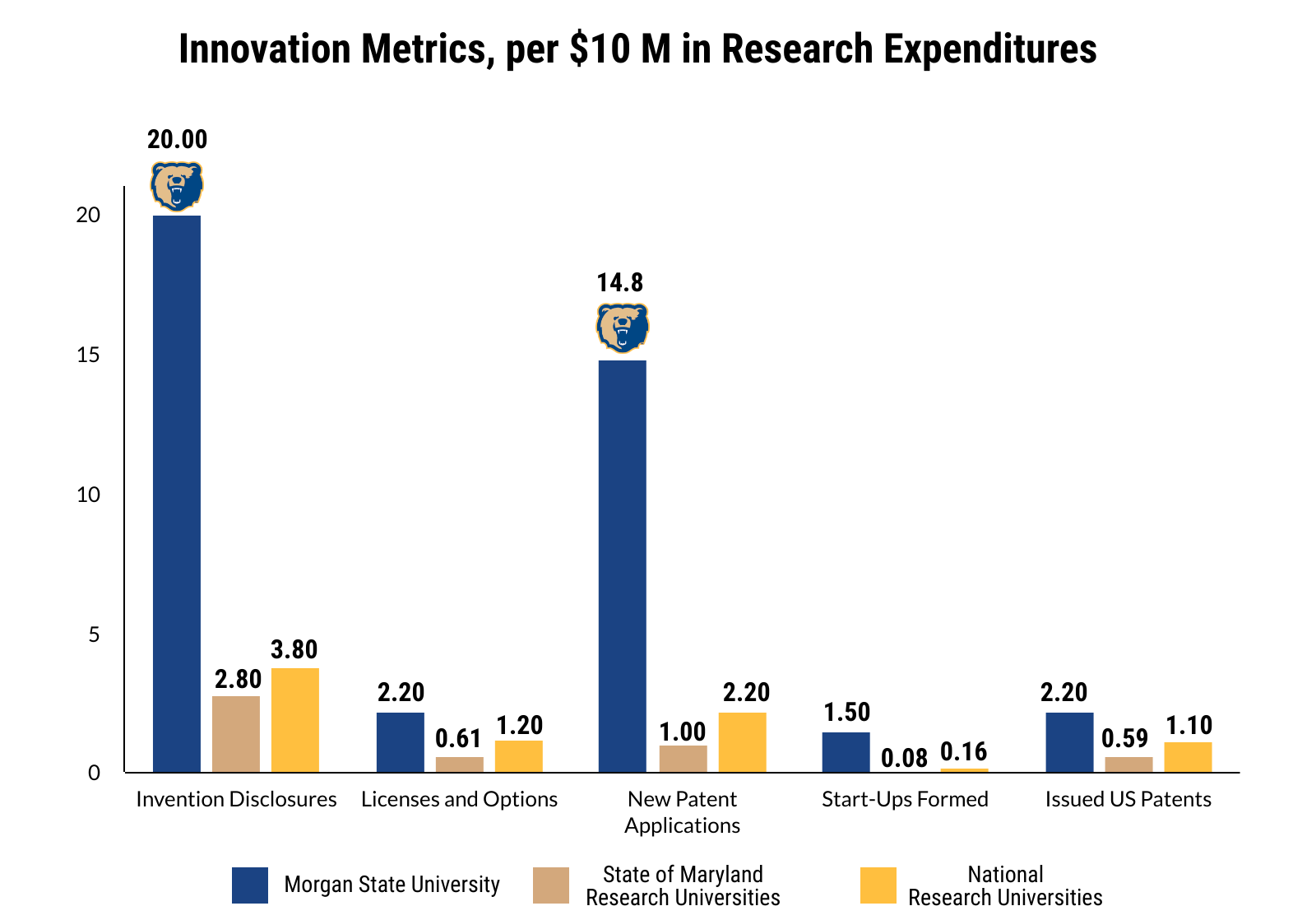 "Thanks to the commitment of the dedicated people we have working at the University, such as Mr. Wayne Swann and his OTT team and the members of our outstanding faculty, Morgan's outlook is very bright," said Willie E. May, Ph.D., vice president for the Division of Research and Economic Development (D-RED) at Morgan. "As we continue the ascension to becoming a top-tier research university, I look forward to the progression of our tech transfer and economic development efforts which will undoubtedly lead to an ever-increasing social and economic impact throughout Baltimore City and the state of Maryland."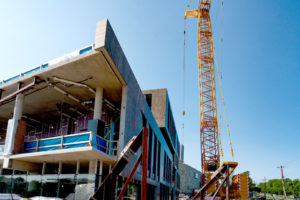 As Maryland's largest HBCU, Morgan has a longstanding commitment to providing affordable, world-class instruction that addresses the needs and challenges of groups historically denied access to higher education. Since its founding, Morgan has produced more than 55,700-degree candidates. Many of the University's alumni thrive in communities in Baltimore and throughout Maryland, contributing $53 million in annual state tax revenue and $11 million in annual city tax revenues. According to the new economic impact report, nearly 17% of Morgan alumni are employed in STEM fields, compared with 11% for all Maryland institutions of higher education.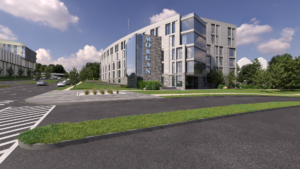 Morgan has long been a presence in its northeast Baltimore community, serving as not only an anchor of the neighborhoods that abut its 152-acre campus but also as a well-established guidepost for higher learning, economic advancement and community investment whose impact is felt throughout the City. Key capital investments and community projects spearheaded by or associated with Morgan served as key indicators of the University's scale as an economic driver. Within the past five years, Morgan has committed to more than $649 million in capital investments, resulting in the construction of three new campus facilities and the redevelopment of a neighboring commercial property, among them the Calvin and Tina Tyler Hall Student Services Building (completed), the Health and Human Services Building (now underway), the new Thurgood Marshall Residence Hall (now underway), a new Science Complex (pending) and the redeveloped Northwood Commons (now underway).
Other key takeaways from the Economic Impact Update Report include:
60% of the economic and employment impact occurs in Baltimore
Morgan students and visitors inject $103 million per year in ancillary spending into Maryland's economy
More than 20,000 hours of community service are logged annually by Morgan students
Data utilized throughout the study were largely provided by Morgan and were independently checked against publicly reported sources, where available.
The full report, "Excellence in Education, Research, and Public Service: The Economic and Social Impact of Morgan State University," can be found here.
SNAPSHOT: MORGAN IMPACT @WORK
As a snapshot demonstrating the impact of Morgan's capital investment and its ripple effect on communities and economy alike, the construction of the Calvin and Tina Tyler Hall Student Services Building provides a turn-key case study. Morgan set high inclusion and community impact standards for the Tyler Hall project. The University challenged construction manager, Barton Malow Company, to hire 19 individuals who resided within the Morgan Community Mile, a 12.2-square-mile area within a one-mile radius of the campus, where the University has committed to engaging in university-community partnerships to make the community a better place to live and work. At the project's completion in the Fall of 2020, Barton Malow and its subcontractors had made 51 such local hires, including 16 project management staff: 268% of the goal.
Additionally, funds spent with minority business enterprises (MBEs) on the design portion of the project totaled approximately $2.8 million, or more than 41 percent of the contract value, exceeding the project's 40 percent goal. The 34 percent participation rate of MBEs in the construction contract likewise passed the project goal (30 percent) representing a $22.1-million windfall to minority-owned enterprises. From community employment to maximizing MBE participation, Morgan remains committed to amplifying its capital investments in ways and means that have a lasting effect on Baltimore communities and industries.
About Econsult Solutions, Inc. (ESI)
ESI is a Philadelphia-based economic consulting firm. It provides businesses and public policy makers with economic consulting services in urban economics, real estate economics, transportation, public infrastructure, economic development, public policy and finance, community and neighborhood development, and planning, as well as expert witness services in support of litigation.

About Morgan
Morgan State University, founded in 1867, is a Carnegie-classified doctoral research institution offering more than 126 academic programs leading to degrees from the baccalaureate to the doctorate. As Maryland's Preeminent Public Urban Research University, Morgan serves a multiethnic and multiracial student body and seeks to ensure that the doors of higher education are opened as wide as possible to as many as possible. For more information about Morgan State University, visit www.morgan.edu.

Media Contact(s):
Larry Jones or Dell Jackson, University PR
(443) 885-3022