Dr. Darryl Peterkin Designated as Professional At-Large Member for the National Collegiate Honors Council Board of Directors
Following the official counting of ballots for its most recent election, the National Collegiate Honors Council (NCHC) Board of Directors has designated Morgan's Dr. Darryl Peterkin, director of the Clara I. Adams Honors College, to serve as Professional At-Large Member. His appointment is for a term of three-years.
As a member of the board, Dr. Peterkin's duties include supporting the NCHC's mission; participating in board meetings; serving on standing committees and task forces; engaging in decisions related to matters of policy, strategy, and governance; serving as an ambassador for the NCHC and honors education; and attending honors events.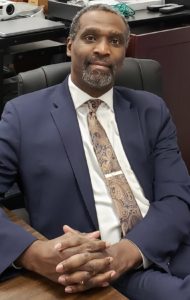 "I am deeply honored and humbled to have been chosen by my colleagues in the national honors community to serve as a Professional At-Large Member of the Board of Directors of the National Collegiate Honors Council," said Dr. Peterkin. "I look forward to bringing my considerable experience on issues of diversity and inclusion, as well as my particular sensibility to the concerns of Historically Black Colleges and Universities, to bear upon matters affecting collegiate honors education both at home and abroad."
In addition to his new role on the NCHC board, Peterkin was previously elected as vice president and 2022 president-elect of the National Association of African American Honors Programs (NAAAHP). He also currently serves as vice president of the Maryland Collegiate Honors Council (MCHC) and the Northeast Regional Honors Council (NRHC). It is believed that Dr. Peterkin may be the first person and the first African American, to hold all of the aforementioned Honors organizational positions simultaneously.
Considered as the nation's premier collegiate honors organization, NCHC supports and enhances the community of educational institutions, professionals, and students who participate in collegiate honors education around the world. With nearly 900 member institutions and several hundred individual members, NCHC provides its members with resources, training opportunities and collaborative events to build and sustain honors programs and their curriculum. It also affords the more than 330,000 honors students it impacts with access to honors scholarships and exclusive events through NCHC and its members.
Morgan's Clara I. Adams Honors College is the intellectual incubator for academically advanced students who choose to matriculate at one of the nation's premier HBCUs. Since its founding, the Honors College has become a vital academic entity dedicated to the realization of the University's mission by exposing its students to enhanced curricula, unique learning opportunities and environments, and a culture of inquisitiveness. For more than a decade, Peterkin has served as the director of the Honors College after joining the University in 2009.