As part of a national effort to increase graduate student and postdoc-led science policy groups dedicated to outreach activities in their communities, Research!America has awarded Morgan State University graduate student Kristen E. Walker with a $2,700 microgrant. Walker, who is pursuing her Ph.D. in Bioenvironmental Science in the School of Computer, Mathematical and Natural Sciences (SCMNS), will be the first Morgan student to receive funding through the three-year-old program.
Research!America Microgrant awards focus on engaging both community leaders and policymakers in discussions about the broad societal benefits and local impact of scientific research. Recipients of the microgrant are charged with forming a new science policy group on campus and generating interest among fellow students, initiating programming, and developing sustainable local support. Group leaders also become eligible to receive possible financial support for a second year and will be invited to participate in a high-level science policy and advocacy course developed in partnership with the Federation of American Societies for Experimental Biology (FASEB).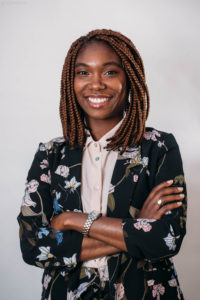 "The science policy group we establish will help to teach Morgan State University students the skills to take part in our democracy while contributing a scientific perspective on important issues facing our communities," said Walker. "Since our nation's scientific research is heavily dependent on public funding, a goal of this group will be to cultivate skills pertaining to how to educate the public and policymakers about our research to advocate for our science."
In light of the COVID-19 pandemic, all new microgrants awarded this year will be used to support high-impact virtual programming using methods such as podcasting, webinars, and data visualization. Research!America, through support from the Rita Allen Foundation, awarded 19 graduate student and postdoc-led science policy groups with microgrants ranging in awards of $1,000 to $4,000. The 2021 Civic Engagement Microgrant Initiative is in its third year, with each new year yielding increased interest in participation.
"Surveys commissioned by Research!America consistently show that the public strongly believes scientists should inform them about their research and its impact on society," said Mary Woolley, President and Chief Executive Officer of Research!America. "Supporting our nation's early-career scientists to engage with their local communities is a crucial and exciting step forward. We are grateful for the support from the Rita Allen Foundation and thank the many student groups who shared their innovative ideas."
At Morgan State University, the newly established science policy group — #BlackInSciPol — will introduce students at multiple education levels to civic engagement through activities centered around how science should impact policy and how to use grassroots methods to positively impact the local neighborhood. The group's aim is to provide the skill development necessary to give students the confidence to provide digestible and relatable materials on emergent science issues to local policymakers. For any students interested in joining the new science policy group please contact Kristen Walker at krwal8@morgan.edu.