Morgan State University continues to lead as one of the top producers of Fulbright Scholars in the nation and as the frontrunner among all Historically Black Colleges and Universities (HBCUs). To-date, 140 students and 69 faculty/administrators have been awarded the scholarship to study and teach abroad in more than 40 countries including Malaysia, India, China, and Brazil. Jordan will be the next country to serve as a research and teaching hub for the University's most recent Fulbright winner, Dr. Omar J. Khan an associate professor of Marketing and International Business in the Earl G. Graves School of Business and Management.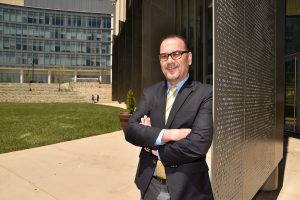 Dr. Khan was awarded the Fulbright for the 2018-2019 cycle. The award will allow him to research the utilization of regionalization vs. globalization strategies by an emerging market for the purposes of economic diversification and sustainable development of international business. In addition, Khan will teach at the University of Jordan during the Spring 2019 semester.
Khan is an accomplished scholar, a published researcher in leading academic journals, and he has authored more than 65 academic articles. His research interests include regionalization and emerging markets, knowledge management and cultural polarization effects, and global supply chain. Khan also serves as faculty advisor for Morgan's student chapter of the American Marketing Association (AMA) and was the recipient of the AMA Outstanding Faculty Advisor Award.
The Fulbright Program, sponsored by the U.S. government, is the nation's flagship international educational exchange program designed to increase mutual understanding between American scholars and people of other countries. The program operates in more than 140 countries worldwide. The Fulbright Program at Morgan was instituted when Dr. Sandye Jean McIntyre, II (Distinguished Professor of Foreign Languages and Honorary Consul of the Republic of Senegal) was appointed campus Fulbright Program Director in 1951. Dr. McIntyre was the longest serving Fulbright advisor in history. In 1968, Dr. Carleen S. Leggett, who would go on to become Morgan's Fulbright Program Director, joined him in his efforts to aid student applicants.