Student Winners Averaged 140% Return on Investment in 'Battle for the Cryptos'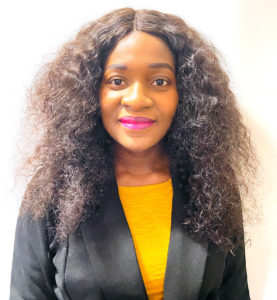 BALTIMORE — The Center for the Study of Blockchain and Financial Technology (FinTech Center) at Morgan State University announced the winners of its second annual HBCU Students Battle-for-the-Cryptos challenge at a virtual awards ceremony hosted by competition sponsor Binance.US. Drawing students from historically black colleges and universities (HBCUs) nationwide to participate in a cryptocurrency trading competition, the  contest is designed to elevate their understanding of, and experience with, cryptocurrency investing, trading, and portfolio management. The winners of this year's competition are Hampton University's Camron Knight, who took first place, Morgan's Oyedoyin Aduroja, who came in second place and Alabama A&M University's Terence Nkwatabe in third place.
Beginning on March 1, the 10-week intensive competition assembled a total of 96 students from 19 HBCUs to yield the highest portfolio balance given a benchmark $200 seed of crypto to create a Binance.US wallet. Each participant was challenged to buy and sell crypto in an effort to grow their net worth and ultimately win crypto-cash awards for the highest portfolio balance.  Trading for the competition ended at midnight on May 6, with 28 active traders still in vigorous contention.
"Our cryptocurrency trading competition presents a terrific opportunity for HBCU students to gain real-world experience with an essential segment of the fintech industry that is very complex and is rapidly evolving," said Ali Emdad, Ph.D., associate dean of the Earl G. Graves School of Business and Management (SBM) and founding director of the FinTech Center at Morgan State University. "We are indeed grateful to Brian Brooks, Binance.US CEO, and his exceptional team for supporting our vision."
As a collective, the 28 active traders who competed to the very end made 140% gains on their portfolios — only one participant ended the competition with less than the $200 seed wallet provided at the onset of the competition. The top three finalists finished the crypto-tournament within $100 of each other.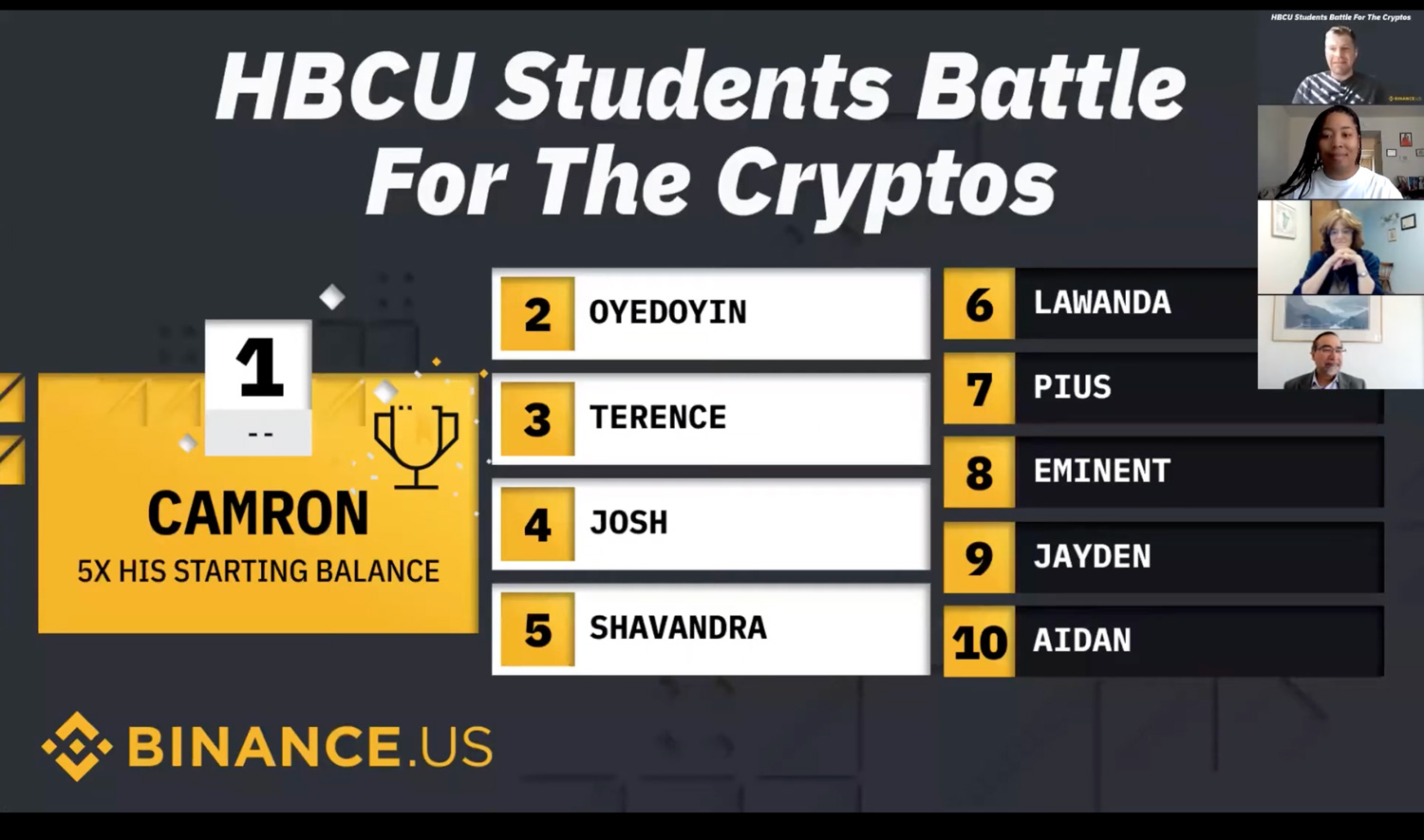 The HBCU Battle-for-the-Cryptos first-place winner, Camron Knight, is a senior majoring in Business Administration with a concentration in finance. He turned his $200 worth of ZEN into a portfolio of $999.83, ending with 5-times his starting balance. Camron will receive $2,000 worth of cryptocurrency in his Binance.US wallet. Finishing in second place is Oyedoyin Aduroja, a Ph.D. student in Bioenvironmental Sciences, who will receive $1,000 in her Biance.US wallet for her efforts. The competition's third-place winner, Terence Nkwatabe, a junior majoring in Cybersecurity, will receive $500 worth of cryptocurrency.
"We were really blown away by the deep commitment you showed to each other," said Brian Brooks, CEO of Binance.US "It was amazing for us to watch experienced traders helping novices learn how to create valuation models, how trade in and out of positions, to do technical analysis…and it goes to show that a lot of times collaboration is the best way to winning."
The spring 2021 Battle-for-the-Cryptos garnered student participation from the following HBCUs: Alabama A&M University, Alabama State University, Albany State University, Bowie State University, Central State University, Coppin State University, Delaware State University, Edward Waters College, Florida A&M University, Hampton University, Howard University, Morgan State University, North Carolina A&T State University, Savannah State University, Spelman College, Stillman College, Tuskegee University and the University of the District of Columbia.
Housed within Morgan's Earl G. Graves School of Business and Management, the Center for the Study of Blockchain and Financial Technology ("The FinTech Center"), launched in October 2018 to engage Morgan's faculty and students in research and education in blockchain, cryptocurrencies, cybersecurity and related FinTech areas. The Center, in part supported by a Ripple grant, sponsors curriculum development, research, and innovation projects as well as educational webinars and workshops. Beyond the campus of Morgan, the FinTech Center also serves as a hub for the HBCU Blockchain Consortium which comprises nearly 50 HBCUs who are active in the development of academic programming, courses and research on blockchain and FinTech.
About Morgan
Morgan State University, founded in 1867, is a Carnegie-classified high research (R2) institution offering nearly 120 academic programs leading to degrees from the baccalaureate to the doctorate. As Maryland's Preeminent Public Urban Research University, and the only university to have its entire campus designated as a National Treasure by the National Trust for Historic Preservation, Morgan serves a multiethnic and multiracial student body and seeks to ensure that the doors of higher education are opened as wide as possible to as many as possible. For more information about Morgan State University, visit www.morgan.edu.