New VP Plans Significant Research Expansion and Increased Collaboration
Among Disciplines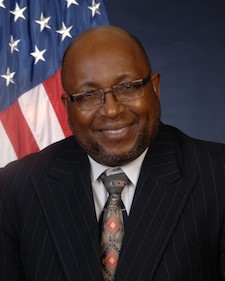 Morgan State University President David Wilson has announced the appointment of Willie E. May, Ph.D., as the University's new vice president for Research and Economic Development. Dr. May comes to Morgan from the University of Maryland, College Park, where he was director of major research and training initiatives for the College of Computer, Mathematical, and Natural Sciences. Before that, he served for three years as U.S. undersecretary of commerce for standards and technology and director of the National Institute of Standards and Technology (NIST), as an appointee of former President Barack Obama. Dr. May will be the second vice president of Morgan's Division of Research and Economic Development (D-RED), replacing the former vice president Victor McCrary, Ph.D., who was appointed by President Wilson when D-RED was established, in 2012.
"Dr. May is a welcomed addition to Morgan's staff. With the establishment of a dedicated division for University research and the State's designation of Morgan as its Preeminent Public Urban Research University, it was imperative that we tap one of the top scientific minds available to continue our momentum and lead us into the future," said President Wilson. "He will play a huge role in our success in meeting the goals we have set for Morgan's research and economic development work."
Dr. May was born in Birmingham, Ala., and grew up there during the 1950s and 1960s. He earned a Bachelor of Science in chemistry with a minor in mathematics, summa cum laude, from Knoxville College in Tennessee, in 1968, and began his career as a bench scientist at the National Bureau of Standards, the predecessor to NIST, in 1971. He worked his way up the ranks of NIST over the next four decades, along the way earning a doctorate in analytical chemistry at the University of Maryland, College Park, in 1977. As a Senior Executive Service-level leader of NIST, he played a major role in transforming the agency into the world-leading measurements and standards organization it is today. As NIST director, he managed a $1.2-billion budget and more than 3,400 employees.
"I am truly thrilled and honored to be selected for this post, and I am looking forward to working with President Wilson and his leadership team to advance the continued growth of the University's research programs," said Dr. May.
D-RED has overseen more than $154 million in awarded contracts and grants since its founding six years ago and guided Morgan to the execution of its first-ever technology transfer licensing contract this year. Dr. May's plans as D-RED vice president include, among others, encouraging collaborative research across the schools, colleges and institutes of the University; advocating for faculty in research; promoting Morgan to corporations, foundations and government agencies as a source of return on research investments; facilitating increased international research opportunities for faculty and students; and enlisting his broad network to assist Morgan in enhancing its programs and its status as Maryland's Preeminent Public Urban Research University.
Dr. May's appointment is effective May 9.
About Morgan
Morgan State University, founded in 1867, is a Carnegie-classified doctoral research institution offering more than 100 academic programs leading to degrees from the baccalaureate to the doctorate. As Maryland's Preeminent Public Urban Research University, Morgan serves a multiethnic and multiracial student body and seeks to ensure that the doors of higher education are opened as wide as possible to as many as possible. For more information about Morgan State University, visit www.morgan.edu.
# # #
MEDIA CONTACT:
Larry Jones, Morgan State University
(443) 885-3022