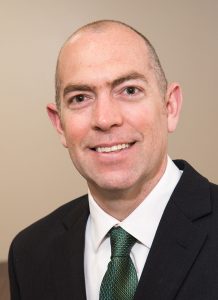 Dr. Scott Knoche has been named as the new director for Morgan State University's Patuxent Environmental and Aquatic Research Laboratory (PEARL) in Saint Leonard, Maryland. Dr. Knoche had been serving as the PEARL's interim director since the retirement of its former director Dr. Kelton Clark in September 2017 after 13 years of leadership.
"The Morgan PEARL is all about scientific, research, programmatic, technological, and educational innovation and since Dr. Knoche has served as both interim and permanent director, it has begun to chart new waters through various collaborations and joint scientific research projects," said Dr. Tim Akers, assistant vice president for Research Innovation and Advocacy. "I am convinced that, under the leadership of Dr. Scott Knoche, the Morgan PEARL will become a national model for other research laboratories to emulate."
Dr. Knoche has worked as a senior research economist at PEARL since August 2015, focusing on producing applied research that addresses key environmental and natural resource management questions. He is currently leading a research effort examining the ecological benefits and economic impacts of oyster reef restoration in the Maryland portion of the Chesapeake Bay. Previously, Dr. Knoche worked as a postdoctoral fisheries economist jointly with the University of Maryland and the Maryland Department of Natural Resources Fisheries Service, and also as an economist with the U.S. Coast Guard's National Pollution Funds Center.
"I am very happy to step into the PEARL Director position," said Dr. Knoche. "We have a committed crew of researchers and staff and I look forward to working closely with each of them to continue to grow environmental research and education at Morgan State University."
"I believe that effective solutions to society's most pressing natural resource management challenges involve explicit consideration of the natural and social sciences and as the director of PEARL, I will focus on developing and enhancing interdisciplinary research programs that provide actionable information to decision-makers on the ecological, economic, and social impacts of management alternatives," added Knoche.
On June 15, PEARL will host its annual Open House event. The Open House is an opportunity for Morgan's faculty, staff, students, alumni and partners to tour the University's satellite facility in St. Leonard, Maryland and learn more about the advances being made in Maryland estuarine research.
The mission of the MSU PEARL is to provide the community with the knowledge to solve its environmental challenges through research, education and economic development. MSU PEARL applies interdisciplinary approaches to studying the connections between complex ecological systems. Founded in 1967 by The Academy of Natural Sciences and originally located in Benedict, Md., the laboratory moved to its current facility in St. Leonard in 1994 and became part of Morgan State University in September 2004.