With a 580-acre headquarters campus in Gaithersburg, Maryland, and more than 3,000 employees in six locations across the U.S., the National Institute of Standards and Technology (NIST) carries out a mission that helps make possible much of the world's advancement in science and technology. Last fall, Morgan State University (MSU) began a major collaboration with the institute through a $30-million, five-year program led by The Johns Hopkins University. The Professional Research Experience Program (PREP) offers undergraduate and graduate students, postdoctoral fellows and faculty from Morgan, Hopkins and Binghamton University, State University of New York opportunities to work at NIST. Morgan can receive up to $1 million per year from PREP in personnel funds for Morgan students and/or faculty to work at NIST laboratories.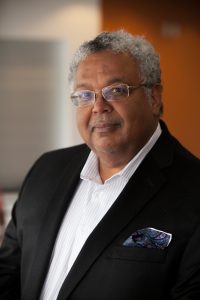 Founded in 1901 as the National Bureau of Standards, an agency with the mandate to provide standard weights and measures for the nation, NIST took its current name in 1988 and now has a broader mission: "to promote U.S. innovation and industrial competitiveness by advancing measurement science, standards and technology in ways that enhance economic security and improve our quality of life."
"Morgan is geographically fortunate to be situated near several high-quality national laboratories. NIST is one of them, and they have outstanding world-class resources," says Michael Spencer, Ph.D., professor in Morgan's Clarence M. Mitchell Jr. School of Engineering and the administrator of Morgan's PREP grant. "So this becomes an opportunity for students and faculty to develop joint relationships with laboratories of interest at NIST. It's even more fortuitous that our current Vice President for Research and Development (Willie May, Ph.D.) is a former director of NIST and has a lot of ties there, so he can suggest relationships that can be developed."
To strengthen the connection between MSU and NIST and to facilitate the University's participation in the research, Morgan has allocated funds to provide bus transportation to NIST headquarters from the Hopkins campus.
"The program is open to any students or faculty who meet the requirements of the NIST laboratories," Dr. Spencer says. "NIST's research is predominantly in physical science, computational science and engineering, but they also do work in other areas.
"International, as well as domestic students and faculty, are eligible for PREP," he adds. "This is one of the few places where an international student can have an internship without having to pass security clearances."
Dr. Spencer is hopeful that Morgan's partnership with NIST will flourish to its fullest, noting that one of NIST's five Nobel laureates will give a lecture at Morgan on April 30.
"If strong collaborations can be established between the laboratories and Morgan through PREP," he says, "a large number of our students may benefit."