Funding Comes as Part of nearly $30M in Nurse Support Program II Competitive Institutional Grants dispersed statewide by the Maryland Higher Education Commission
BALTIMORE – In support of efforts to promote statewide mentoring for nursing students, the Morgan State University (MSU) Nursing Program, in collaboration with University of Maryland School of Nursing Workforce Center, announces the receipt of $146,722 in funding from the Maryland Higher Education Commission (MHEC) Nurse Support II (NSP II) Competitive Institutional Grants program. The funding comes as part of $29.2 million MHEC awarded to higher education institutions statewide in support of increasing the number of nurses at patients' bedsides and improving student outcomes through practical experience and learning opportunities.
"The increased emphasis on supporting nursing students throughout the state will improve health outcomes and assist with meeting workforce demand as well," said Kim Dobson Syndor, Ph.D., dean of the School of Community Health and Policy (SCHP) at Morgan. "This initiative is aligned with Nurse Support II's goal of increasing the enrollment and graduation of nurses, along with attracting and retaining populations that are underrepresented in the nursing profession."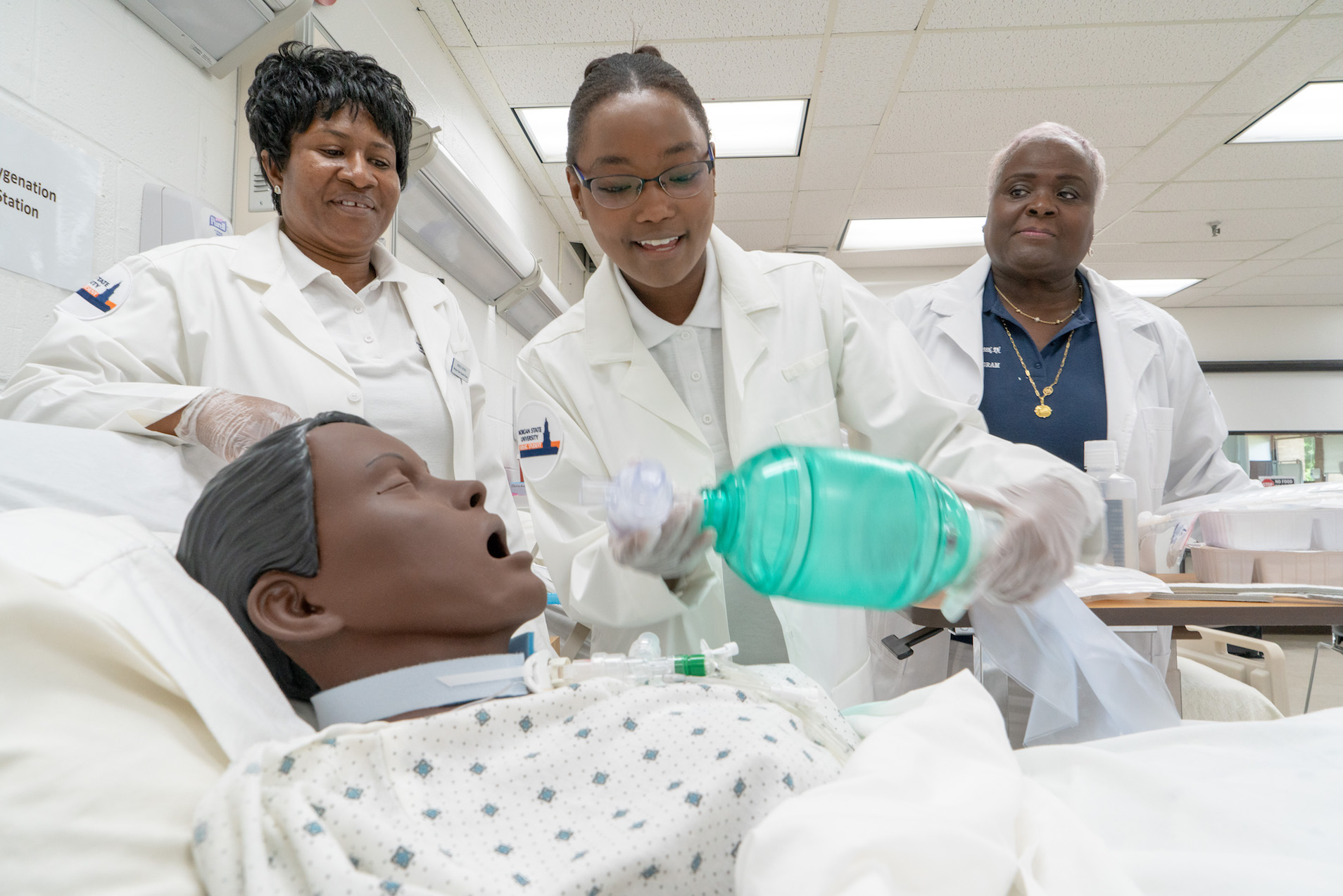 The mentoring initiative was inspired by the Nursing Program's collaboration with the Maryland Action Coalition and participation in two training sessions jointly sponsored by the U.S. Department of Health and Human Services, Office of Minority Health; the American Association of Retired Persons; the Robert Wood Johnson Foundation; and the Center to Champion Nursing in America. The training provided the participants with the tools necessary to develop, implement and sustain formal mentoring programs with a greater emphasis on making the nursing workforce more diverse, particularly in the areas of gender, race, and ethnicity.
The increased prevalence of chronic illnesses, aging senior populations, and the high demands resulting from the recent COVID-19 pandemic are leading to greater demands for healthcare services, particularly the healthcare workforce. The registered nurse (RN) workforce is the single largest group of health professionals, with more than three million nationally and estimated 53,150 employed in the State of Maryland. The NSP II Competitive Institutional Grants program aims to sustain a skilled pipeline of nursing professionals to stem any potential shortages within the state of Maryland. Competitive institutional grants are awarded for projects addressing the following initiatives:
Increasing nursing pre-licensure enrollments and graduates,
Advancing academic preparation of entry-level nurses and existing nurses to meet the needs of hospitals and health systems (80 percent BSN by 2025),
Doubling the number of nurses and nurse faculty with doctoral degrees,
Academic/practice partnerships for hospitals and nursing programs to collaborate,
Developing statewide resources and models for nurse educators at both hospitals and academia, and
Cohen Scholars programs to prepare nurse educators for the future.
Encouraged by the prospects of sharing this initiative throughout the state Dr. Maija Anderson, director of MSU's Nursing Program shared, "I know that mentoring has been a crucial component of our graduates' success, I look forward to assisting other programs throughout the state in implementing successful mentoring programs, and I hope that our model will serve as one that can be replicated in other states as well."
The NSP II funding awarded to Morgan will be used to support a number of outcomes including, advancing a statewide mentoring workshop for all nursing faculty from all nursing programs in the State; establishing a formal mentor program at the university; and evaluating the effectiveness of the mentoring initiative.
On August 12-13, MSU's Nursing Program and the University of Maryland School of Nursing, Maryland Nursing Workforce Center will be hosting a free virtual workshop on Mentoring: A Strategy for Enhancing Student Engagement and Success which includes a panel discussion on "Student Mental/Emotional Health During COVID-19.
About Morgan

Morgan State University, founded in 1867, is a Carnegie-classified doctoral research institution offering more than 126 academic programs leading to degrees from the baccalaureate to the doctorate. As Maryland's Preeminent Public Urban Research University, Morgan serves a multiethnic and multiracial student body and seeks to ensure that the doors of higher education are opened as wide as possible to as many as possible. For more information about Morgan State University, visit www.morgan.edu.
MEDIA CONTACT(S):
Larry Jones or Dell Jackson, University PR
(443) 885-3022