Dear Morgan Family,
Last week, I communicated to you that we are starting our planning in earnest for a phased-in, full reopening of our National Treasure starting sometime this summer. My optimism is being fueled by the Biden Administration's COVID-19 response plan that includes the acceleration of vaccine distribution and inoculation that would have the majority of the adult population vaccinated by the end of the summer. These actions bode well for our Fall 2021 Semester reopening goal. Please understand, however, that even as we plan for a full reopening, we will always be guided by science in our decision making and that mitigation strategies are likely to remain in place.
With the above in mind and recognizing that we would have been away from the campus for nearly a year and a half, I am empaneling a group of Morgan administrators, students, staff, faculty and alumni, to thoughtfully plan our face-to-face reunification as a Morgan Family. The goal of the planning group, dubbed Morgan's Resocialization and Re-acculturation Team, is  to plan a smooth reentry process for the entire University community.  We want to bring everyone back to a productive, spirited, and welcoming community. We want our students to be reintroduced to the rites and traditions at Morgan that are the hallmarks of the "Morgan Experience."  We want our staff and faculty to be ready for the face-to-face interactions conducted in a safe manner. The Committee will outline the path we should follow to bring students back to live together in harmony—recognizing the relative state of isolation experienced by so many of them over the last year. In sum, the team will be tasked with making recommendations to answer the fundamental question: after a prolonged and disruptive absence, how do we bring back the essence of our Morgan culture and make it even better?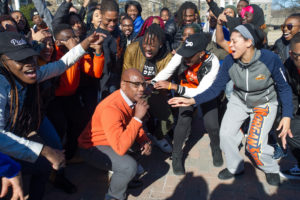 Among the many topics addressed will be a discussion of equitable telework and the extent to which identified staff might continue to engage in work remotely without impacting their ability to fully execute the duties and responsibilities of their jobs. I am hopeful that the Committee will plan a week or month-long group of activities and programs that would ultimately achieve the goal of welcoming back our family with the warm embrace that embodies our six core values:
Leadership
Innovation
Integrity
Diversity
Excellence
Respect
The committee will be co-chaired by Vice President of Student Affairs Dr. Kevin Banks and Associate Vice President for Academic Affairs Dr. Patricia Lessane and will consist of a variety of members including administrators and staff, faculty, students and alumni. A complete list of all members will be shared once finalized.
I eagerly await the first report from our newly established Resocialization and Re-acculturation Committee by June 1, 2021.
Please let me know if you have any questions.
Kind regards,


President Wilson