Business savvy and an entrepreneurial spirit represent two of the many attributes acquired by students to propel their success beyond the classrooms and corridors of the Morgan Business Center. Recently, two Morgan scholars put these traits, and more, into practice yielding substantial dividends. Juniors Kiley Williams and Tobi Plumpter, both majoring in Information Systems, were awarded the honor of acceptance into the HBCUvc Fellowship Program.
The enterprising duo from MSU's Earl G. Graves School of Business and Management (SBM) are participating in the highly selective HBCUvc program, which attracts top talent from HBCUs and Hispanic Serving Institutions (HSIs) to train them on the fundamentals of venture capital (VC) and provide the essential framework to foster entrepreneurship across their campuses.
Reflecting on the experience that awaits and what she hopes to glean from it, Kiley Williams commented, "I hope to gain skills increasing my entrepreneurial acumen, ecosystem-building skills and venture capital knowledge. Ultimately, the skills and insights that I gain, I hope to use… to transform the economic outcomes of the Black community."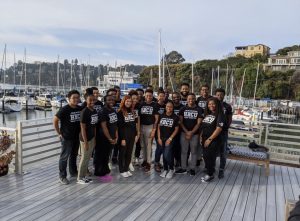 The HBCUvc program model is exclusively focused on nurturing next-generation venture capitalists to create inclusive economies within an African American community ripe for investment and economic stimulation. Developing a pipeline for diverse talent into an industry wrought with diversity deficiencies is long overdue. According to a recent report published by Diversity VC and RateMyInvestor, less than 1 percent of venture capitalists are black.
Our two Morgan Business School standouts are among a vibrant crop of future VCs who aspire to change the representation imbalance within an industry that's severely diversity-deficient. As a proving ground for this change, the campus of the National Treasure will be the venue for this effort for the MSU HBCUvc Fellows.
Williams and Plumpter are poised to launch a student-run incubator and host several programs and events in the coming year that are designed to stoke the financial literacy and business savvy of Morgan's student population. After an in-depth assessment of Morgan's entrepreneurial landscape, the pair will initiate an incremental rollout beginning with a pre-incubation phase in the fall of 2020. They plan to scale-up their initiative to a fully operational incubator shortly thereafter.
"The pre-incubator focuses on fostering, growing and nurturing aspiring entrepreneurs as we strategically grow their ideas into a scalable business," said Williams.
"We want to cultivate students' ideas, turning them into (businesses as well as potential career paths)," added Plumpter. "Self-sustained entrepreneurship is an avenue of employment that gives a person freedom (in) the work they do…. (It) is a path ready for anyone willing to put the effort in."
HBCUvc is an experience-based learning opportunity in VC and technology entrepreneurship. The Fellowship Program empowers students to act as local venture catalysts to build startup communities in and around their campuses. Morgan's HBCUvc scholars will learn firsthand from investors and entrepreneurs as they work to identify investment opportunities, perform market research and support local entrepreneurs during the two-year fellowship.
"As a young black man trying to enter the VC space, HBCUvc has already given me an advantage through the connections I've amassed and experiences I've had across the country," added Plumpter.
Current MSU senior Electrical Engineering major Ime Essien was the first Morgan State student selected to the HBCUvc Fellowship Program. A Class 2 Fellow, Essien was part of the program's 2018–19 cohort.