MSU Board of Regents Approves Dual Degree Aerospace Program with Purdue University, and a New Mechatronics Engineering Program
BALTIMORE — The path has been cleared for Morgan State University (MSU), Maryland's Preeminent Public Urban Research University, to expand its offering of STEM programs with the addition of several new degrees in emerging fields of study. At its fall quarterly meeting, the MSU Board of Regents voted unanimously its approval for the University to pursue adding two new and exclusive multidisciplinary programs—a Bachelor of Science degree in Mechatronics Engineering and a (3+2) Year Dual Bachelor of Science Degree consisting of either a B.S in Civil Engineering or Engineering Physics from Morgan and a B.S. in Aeronautics and Astronautics from Purdue University.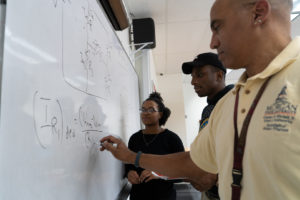 Additionally, during the Board's summer quarterly meeting held in August, the University received approval to add a new Ph.D. in Secure Embedded Systems. All of the new programs will need to receive approval from the Maryland Higher Education Commission (MHEC) before the University can begin offering them to students. Pending MHEC approval, Morgan's roster of academic degree programs will grow to more than 128, with an expectation of having all of the newly proposed programs available in fall 2021.
"The future is now, and Morgan is firmly planted at the doorstep of ushering the next generation of scientists, engineers, professionals and business entrepreneurs for tomorrow's interconnected, global economies—and the addition of programs rooted in emerging technologies, adaptive thinking and cross-disciplinary skills, such as these, are equally critical to Morgan attaining R1 research status," said David K. Wilson, president of Morgan State University. "We appreciate the Board for its steadfast governance, leadership and support of the University in its mission to prepare diverse and academically talented graduates who are skilled, career-ready and poised to lead nationally and globally."
Once approved by MHEC, Morgan would become the first university in the state of Maryland and the only HBCU nationwide to offer a Bachelor of Science degree in Mechatronics Engineering. Integrating new and developing technologies, the Mechatronics Engineering program will incorporate a synergistic curriculum that bridges the application of mechanical engineering and electrical engineering using electronics, control systems and computer engineering, in the development of electro-mechanical products and systems through an integrated design approach. The proposed program will address the workforce development needs attributed to the Fourth Industrial Revolution or Industry 4.0, which focuses on interconnectivity, automation and real-time data using modern smart technology, such as artificial intelligence (AI), Internet of Things (IoT) and Cloud Computing. Mechatronics Engineering will have an interdisciplinary program structure with courses emanating from the Clarence M. Mitchell, Jr. School of Engineering (SOE) and School of Computer, Mathematical and Natural Sciences (SCMNS).
In a crucial step toward developing a standalone Morgan aerospace science and engineering program, Morgan has entered a partnership agreement with Purdue University's School of Aeronautics and Astronautics. Through this unique collaboration, Morgan students can earn a Bachelor of Science degree in either Civil Engineering or Engineering Physics from Morgan when completing the requirements for a Bachelor of Science degree in Aeronautics and Astronautics from Purdue. Successful candidates matriculating from this program will be awarded dual degrees having studied three years at Morgan and two years at Purdue. The program will serve to complement Morgan's Civil Engineering and Engineering Physics programs, and leadership within the University's School of Engineering and School of Computer, Mathematical and Natural Sciences are committed to its success.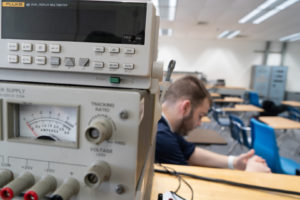 This exclusive pairing between research universities, will further position Morgan students with aerospace aspirations to participate in unique experiential learning opportunities. Included among which would be the university's involvement in the Base 11 rocketry program and competition to launch a liquid-fueled rocket to 150,000 feet by 2022.
The University's Board of Regents also ratified the adoption of the earlier proposed Doctor of Philosophy in Secure Embedded Systems, an innovative, multidisciplinary doctoral program offered in the SOE with faculty affiliates from the Earl G. Graves School of Business and Management (SBM) and the SCMNS. The program will target highly motivated students who have already obtained a bachelor's or master's degree and desire to pursue career opportunities in academia, commercial industry, defense, government laboratories, federal agencies, consulting, military or research. It would be the only of its kind in the state of Maryland and one of only a few nationwide.
Established under Title 14 of the Education Article, Annotated Code of Maryland, the 15-member Morgan State University Board of Regents governs the actions of the university. The governor of Maryland appoints Board members for six-year terms, except for the student regent, who is appointed for a one-year term. The Board appoints the university president, who serves at the pleasure of the Board. The Board also sets admission standards; reviews and approves university policies and budgets; and establishes the regulatory framework within which the individual units operate.
About Morgan
Morgan State University, founded in 1867, is a Carnegie-classified doctoral research institution offering more than 126 academic programs leading to degrees from the baccalaureate to the doctorate. As Maryland's Preeminent Public Urban Research University, Morgan serves a multiethnic and multiracial student body and seeks to ensure that the doors of higher education are opened as wide as possible to as many as possible. For more information about Morgan State University, visit www.morgan.edu.
MEDIA CONTACT(S):
Larry Jones or Dell Jackson, University PR
(443) 885-3022