Morgan students from the School of Architecture and Planning recently won the 2019 Sustainable Growth Challenge case competition sponsored by the Maryland Sustainable Growth Commission. The competitive group from Morgan showcased their distinct vision for urban planning and community design and was among four teams awarded the coveted honor for their respective plans. Along with Morgan State University, other winning institutions included teams from St. Mary's College and the University of Maryland College Park.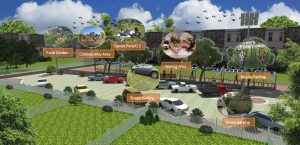 The winning submission from the Morgan SA+P students titled "Franklin Square Neighborhood Plan," delivered a reimagination of one of Baltimore's most historic communities whose nineteenth century rowhouses spans twenty-four city blocks. Given an in-depth analysis of the neighborhood's vitality, including comprehensive assessments of its infrastructure, resources, and socio-economic indicators, the Morgan group envisioned a renewed Franklin Square Neighborhood founded on the principles of WEL: Walkable, Equitable, Livable. The plan comprised a multidisciplinary proposal that encompassed urban planning, analyzed economic, social and environmental aspects of sustainable growth, and developed creative community solutions.
"We recognize the valuable active learning experience students gain when provided the opportunity to apply course material and instruction in the real-world settings that case study research presents, said Tonya Sanders-Thach, Ph.D., faculty advisor on the project and professor at Morgan's School of Architecture and Planning. "Our team put forth an incredibly astute effort crafting a comprehensive, well-conceived multidisciplinary plan that showcased their design talents, as well as presenting opportunities for them to foster community engagement, promote essential soft skills development and enhance critical thinking."
The winning SA+P team from Morgan comprised the following Master of City and Regional Planning graduate students: Christy Bernal, Justin Fair, Washina Ford, Kshitiz Gurung, Alexander Pianim, April Smith and Sha'Von Terrell.
"These students represent the next generation of innovators who will help ensure Maryland remains a national leader in sustainable economic development and environmental stewardship," said Governor Larry Hogan of all those recognized. "I am proud of their efforts and all of the forward-thinking work being done at our state's colleges and universities."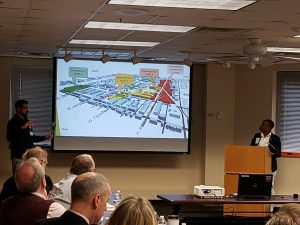 The Sustainable Growth Challenge is a program that engages Maryland college students in developing creative solutions to sustainability while also providing a career-building, real-world learning experience. The annual collegiate challenge is an interdisciplinary exercise promoting economic growth, environmental stewardship and sustainable land use at the community level.
"The awardees have demonstrated creativity, flexibility and passion in their projects," said Planning Secretary Rob McCord. "We continue to foster a legacy of best practices using mentorship, collaboration and education as our foundation."
The Sustainable Growth Challenge, and other competitions like it, affords Morgan opportunities to demonstrate its commitment to community engagement through mutually-beneficial opportunities that promote service-learning programs through student research.