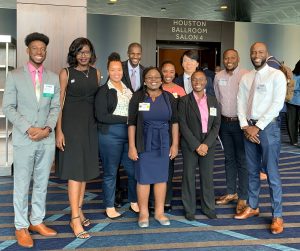 It was 4 p.m. on a Wednesday, and 25 students were seated in the Richard N. Dixon Research Center's Travelers Auditorium, a space made available through the generosity of The Travelers Companies. Prior to the switch to remote learning as a result of the COVID-19 pandemic, these students would gather in the auditorium every Wednesday for their Professional Development Seminar, a requirement of their major, Actuarial Science. The students looked forward to seeing their presenter, Melissa Strother, who is an actuary for Travelers. Strother has visited the campus numerous times, whether to conduct mock interviews, review resumes or speak to the students about the daily work in her profession.
Actuarial science is a highly specialized field practiced by actuaries: highly trained, highly paid professionals who manage risk using data, mathematics and statistics. Morgan is the nation's first and only Historically Black College or University to offer a Bachelor of Science in this field. The program, which is housed within the School of Computer, Mathematical and Natural Sciences and is now led by Candice Marshall, Ph.D., was founded in 2008 and has since produced 35 graduates. Many graduates of the program are actuarial students, a term used to describe those who are employed in an actuarial position but have not yet passed all of the exams required to be an actuary. However, because of its well-rounded curriculum, Morgan's Actuarial Science (ACSC) Program prepares its graduates for a variety of roles in the insurance and financial services industry. Alumni of the program work at insurance companies such as Travelers and Prudential, consulting firms such as Willis Towers Watson, and government agencies.
Through the support of initiatives like the Morgan-based Travelers EDGE program, whose mission is founded in Empowering Dreams for Graduation and Employment, Morgan is at the forefront in providing a pipeline of diverse talent to a relatively monochromatic profession. According to U.S. Census Bureau data, a mere 2.43 percent of actuaries practicing in the U.S. are African American, further demonstrating that the industry is critically lacking in representation. Morgan aims to stem this tide and be a catalyst of change within the profession.
Roshan Ghimire, a senior ACSC major, reports that the program's Professional Development Seminar "…has helped me gain extensive knowledge of my career…. Also, speakers from different companies that are invited to the class (are) a plus, as (they have) given me and my peers opportunities to better know the companies and even secure…full-time employment and internship(s). Overall, the ACSC program has played a vital role in shaping my career as an Actuarial Science major and provided me with the technical and soft skills I need to be work field-ready before I graduate."
Typically, during the spring semester, students use their time in the seminar to prepare for their annual case competition, in which they are tasked with solving a problem just as a practicing actuary would. The cases are created and judged by actuaries, while other actuaries and alumni of the program hold coaching sessions with the students. The students work in teams and present their solutions to a panel of judges.
Although many practicing actuaries do not hold a master's degree, actuaries must pass a series of professional exams to reach the top of their field. The Actuarial Science Program at Morgan has intentionally designed its curriculum sequence to prepare its students for the first three exams upon graduation, producing highly competitive graduates in the field.  Although Actuarial Science majors are not required to take professional exams while at Morgan, about 20 percent have sat for the exams this academic year, and six undergraduates passed professional exams in 2019.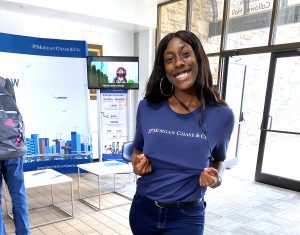 Morgan's ACSC program is very well-connected to the related industries. The Travelers Companies is a major sponsor of the program. Actuaries from Travelers, including Strother, sit on the program's advisory board, and others participate in the Professional Development Seminar, mentor students or judge the case competition. The program also benefits from its relationship with Principal Insurance, which generously funds the students' subscription to Coaching Actuaries, an online exam preparation tool.
Many companies also offer Morgan students scholarships. Travelers, Principal Insurance, and Chartered Property Casualty Underwriting (CPCU) have awarded Morgan Actuarial Science majors with funding. The majority of the students are also engaged in the program's many professional organizations and clubs such as the International Association of Black Actuaries (IABA), Gamma Iota Sigma and the American Statistical Association. Through IABA, the program also recently launched a Student Ambassador Program, which is sponsored by Travelers and will offer students additional mentoring and networking opportunities. ACSC students also frequently attend conferences hosted by the Society of Actuaries, the Property and Liability Resource Bureau, CPCU and the National Association of Mutual Insurance Companies, to learn about current issues in the field and to network with practicing actuaries.
In addition, Morgan's Actuarial Science Program has established a summer enrichment program for high school students: the Summer Academy of Actuarial and Mathematical Sciences (SAAMS) functions as a pipeline to the ACSC program. SAAMS aims to educate students about the career opportunities in actuarial science, introduce them to the types of problems actuaries solve and help them improve their math and computer science skills so they are prepared to succeed as Actuarial Science majors. Participants take college-level math and computer science courses while learning more about actuarial science through guest speakers, projects and field trips. Some students have returned year after year to participate in the program, and some have gone on to enroll at Morgan and in the University's Actuarial Science Program.
This young and nimble program continues to evolve and mature to produce highly qualified graduates in the field and attract the attention of insurance companies across the nation.
"The Actuarial Science program at Morgan State University provides students with the foundation to start in an actuarial career…. The staff and students are committed (to) increasing the number of diverse actuaries in the field of actuarial science," says Strother.
With only two such programs offered in the state of Maryland (the only at an HBCU), Morgan is one of five HBCUs nationally to offer a degree in actuarial science. And with support of the Travelers EDGE program and efforts like SAAMS, it is well positioned to grow, spread awareness of the field and be a leader in producing black actuaries in the United States.
Submitted by Emily Caballero, Assistant Director
Summer Academy of Actuarial and Mathematical Sciences (SAAMS)
For more information about Morgan State University's Actuarial Science Program, please visit www.morgan.edu/actuarialscience.
For more information about Morgan's Summer Academy of Actuarial and Mathematical Sciences, please visit www.morgan.edu/saams.
For more information about the field of actuarial science, please visit https://www.beanactuary.org.