Congratulations to Morgan State University junior Brianna Taylor! The Multimedia Journalism major was one of 14 students recently chosen to join the 2020 class of the Politico Journalism Institute (PJI), an educational initiative dedicated to diversifying Washington, D.C.-area newsrooms. Now in its seventh year, PJI, a Politico partnership with American University and The Robert C. Maynard Institute for Journalism Education, offers university students and recent graduates intensive, hands-on training in reporting focused on politics and policy. Many PJI alumni go on to land an editorial role at Politico or other newsrooms.
Taylor, now managing editor of Morgan's student newspaper, The Spokesman, was born in San Diego, California, and is a longtime resident of Prince George's County, Maryland. Her interest in her major is also longstanding. Attracted to storytelling and writing at an early age, she has kept a journal since she was six years old.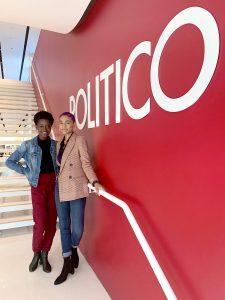 Taylor described the selection process for the PJI as "very intense." Her best friend, Oyin Adedoyin, who is also an MSU Multimedia Journalism major, was a member of the Institute's sixth class, last year.
"I watched her go through the application process. It was grueling, but the reward was (great)," Taylor said. "She pushed me to apply for the 2020 class, and after weeks of nudging, I agreed. And I'm so glad I did. I appreciate Politico's coverage. They have a way of condensing difficult (subject matter) and reporting it in a way that the average reader will understand."
Taylor is looking forward to meeting and learning from a diverse group during the PJI, she said. Originally scheduled to be held in-person on May 26 through June 5 of this year, the Institute will instead offer virtual sessions in August: a change made necessary because of the burgeoning COVID-19 pandemic. Selectees for the PJI's Class of 2020 will also be admitted to the 2021 class upon request.
In the meantime, Taylor is making the adjustment to online classes as a student at Morgan. She recently wrote an op-ed for The Spokesman about her generation's response to the current public health crisis. Shared with the entire Morgan community by MSU President David K. Wilson, the article has been widely read.
"Morgan holds a special place in my heart," Taylor said. "It's offered me the resources to gain experiences outside the classroom, and that's vital in my major.
"I am just one story," she adds. "There are numerous (others) in the School of Global Journalism and Communication, because we all carry a unique work ethic. The reward only goes to the person who wants it, and we all want it."