With plans for a fall graduation underway, senior Strategic Communication major Justus Hawkins is getting a boost from one of the nation's largest privately owned companies. The Calvert County, Maryland, native has been selected to participate in the Bloomberg Business Journalism Diversity Program, an initiative designed to diversify the workforce in the field of business journalism. Selection into the program provides participants with access to a leading financial news organization  — Bloomberg — as well as instruction by senior Bloomberg journalists and executives, and opportunities to meet influential people in the industry.
A Multimedia Journalism major when he transferred to Morgan from community college in 2018, Hawkins said he was attracted to strategic communication because of his strong desire to assist others in achieving their goals. That character trait of supportiveness apparently runs in his family.
"I was nearing the end of my time at Prince George's Community College, and I wasn't sure where I should go next," Hawkins said. "My oldest sister attended Morgan State and suggested that I apply to the University. She assisted me to complete the FAFSA and constantly encouraged me to be great."
Meeting David Marshall, Ph.D., professor and chair of Morgan's Department of Strategic Communication, convinced him to change his career direction, Hawkins explained. But Dr. Marshall added that "to be a SCOM (Strategic Communication) major means that you will have to work hard and go beyond your comfort zone," Hawkins said.
True to that promise, the Bachelor of Science in Strategic Communication Program in Morgan's School of Global Journalism and Communication (SGJC) has given him an abundance of work as well as many opportunities, Hawkins said. During his two years as a Morgan undergraduate, he has participated in the America East Hackathon in Hershey, Pennsylvania; served as an intern at the Baltimore Sun; received multiple scholarships; and written for The Baltimore Times. He also traveled to New Orleans last fall to participate in the Online News Association (ONA) Conference as an HBCU Digital Media Fellow. He learned about the Bloomberg program while participating in the ONA event.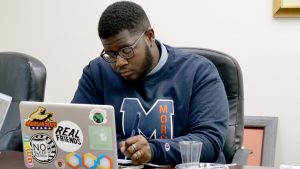 "Bloomberg's representative (at the conference) was a black woman who told us about the importance of business journalism. Post-ONA, a Morgan alum told me to apply for the program," Hawkins said. "I applied…to gain more skills and have a specific focus on journalism opportunities."
Hawkins hopes to use the knowledge he is gaining inside and outside of the classroom to help realize his dream career of — true to form — helping others.
"My long-term goal is to work for the Creative Artists Agency (CAA) in California, in their social impact department," he said. "CAA is known for its influence as a talent and sports agency and for its many clients.  I also want to create campaigns that inform low-income communities about self-care and financial literacy."
Hawkins is excited about the opportunity to take part in the Bloomberg Business Journalism Diversity Program and is grateful to Morgan for his higher education.
"I am thankful for the Morgan faculty and staff…" Hawkins said. "They are dedicated to our success."