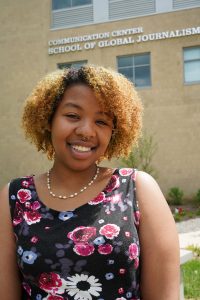 Congratulations to Morgan senior Akira Kyles on being selected by POLITCO as a member of its 2018 Journalism Institute Class. Kyles, a multimedia journalism major in the School of Global Journalism and Communication, is one of 13 students chosen from universities across the U.S.
The POLITICO Journalism Institute (PJI) is an educational initiative created to support diversity in Washington, D.C.-area newsrooms. The program, presented in partnership with American University and the Maynard Institute, will provide intensive, hands-on training in government and political reporting. At the end of the program, two students will be selected for a three-month residency in the POLITICO newsroom, where they will write, edit, and produce content.
Kyles is the editor-in-chief of The MSU Spokesman, the University's student newspaper. The Prince George's County, Md. native will graduate this May. In addition to contributing to PJI over the summer, Kyles will also write for the Afro-American newspaper.
The institute will be held May 29 – June 9. Students will divide their time between American University in Washington, D.C., and the POLITICO headquarters in Arlington, Va.