Morgan's Is the Only Four-Year Nursing Program in Maryland to Record a Perfect Pass Rate During FY 2018
Morgan State University nursing graduates posted a 100 percent first-time pass rate on the NCLEX-RN national licensure examination for fiscal year 2018, marking a first for the Nursing Program's Bachelor of Science degree recipients and topping all other Maryland universities offering a four-year nursing degree. A total of nine candidates, who were cleared to test, passed the required examination on their first attempt, placing Morgan among the few institutions to accomplish this goal. For the graduates of the Morgan School of Community Health and Policy's Nursing Program, the NCLEX examination presents the final challenge prospective caregivers must surpass before becoming a registered nurse. The achievement is important for the Nursing Program, which also received the initial accreditation for its Bachelor of Science (Nursing) degree this year.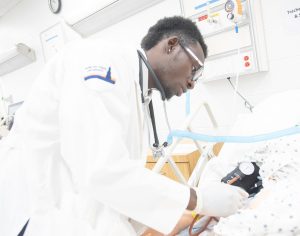 "Achieving this goal is yet another testament to the hard work, perseverance and commitment of the nursing faculty and the graduates who demonstrated what they had learned, from a content (analysis/application perspective) and what they've learned as professionals as it relates to the qualities ingrained in them throughout the program," said Maija Anderson, D.N.P., R.N., director of Nursing Programs at Morgan State. "We continue our drive towards excellence in nursing education with the knowledge that we can more than adequately prepare excellent nurses for the workforce here in Maryland and abroad. This knowledge supports our ongoing mantra, 'Semper Ad Meliora,' which simply means 'always towards better things.' "
The National Council Licensure Examination (NCLEX-RN exam) is the testing standard used to qualify a nurse's knowledge and ability in patient care upon graduation from an accredited nursing program. It differs from the average knowledge-based nursing school tests, in that it examines a graduate's application and analysis abilities, critical thinking skills and judgment. Every nurse seeking to become registered is required to pass the rigorous exam, answering a series of complex questions, to practice in the profession. The nationwide pass rate for first-time exam takers was 90 percent in 2017.
The nine graduates from Morgan represented three different cohorts: one in the May 2016 cohort, one in the May 2017 cohort and seven in the May 2018 group. The Maryland Board of Nursing reports the test results by fiscal year (July 1 to June 30). The two students from the 2016 and 2017 cohorts tested in early FY 18 (August and September 2017), and the graduates representing the May 2018 cohort tested before June 30, 2018. The remaining graduates from the May 2018 cohort tested after June 30 and will be included in the first-time pass rate for FY19.
"This is a milestone moment for the Nursing Program, the School of Community Health and Policy and Morgan State University," said Kim Dobson Sydnor, Ph.D., dean of the School of Community Health and Policy. "Providing qualified nurses under an accredited program, who will both increase and diversify the nursing workforce, brings a great sense of pride and accomplishment. We will continue to work to maintain a level of excellence that meets and exceeds accreditation standards."
Morgan's steadily increasing Nursing Program graduation rates, NCLEX-RN first-time pass rates and undergraduate accreditation come at an opportune time, as the nation is apparently experiencing a nursing shortage. According to a 2017 survey published by American Nurse Today, 60 percent of nursing managers cited difficulty in recruiting R.N.s to fill open positions. In addition, the U.S. Bureau of Labor Statistics is projecting the growth of the number of registered nurses to surpass that of all other professions, with employment increasing by 15 percent by 2026.
Formally established in 2008, Morgan's Nursing Program was created in response to the national nursing shortage, an underrepresentation of minorities in healthcare, and the healthcare disparities between the residents of Baltimore and the larger society. The program's goal since its inception has been to provide a quality nursing education that produces graduates who are well equipped to meet the challenges of an ever-evolving healthcare system.
Morgan's Nursing Program plans to establish additional tracks and is preparing to launch an online R.N.-B.S.N.-M.P.H. program by Spring 2020.
Learn more about the Morgan State University Nursing Program.
About Morgan
Morgan State University, founded in 1867, is a Carnegie-classified doctoral research institution offering more than 100 academic programs leading to degrees from the baccalaureate to the doctorate. As Maryland's Preeminent Public Urban Research University, Morgan serves a multiethnic and multiracial student body and seeks to ensure that the doors of higher education are opened as wide as possible to as many as possible. For more information about Morgan State University, visit www.morgan.edu.
# # #
MEDIA CONTACT:
Larry Jones, University PR
(443) 885-3022