Funding Will Enhance Biofuel Production in Cyanobacteria Using Nanoparticles, While Preparing the Next Generation of Minority Biotechnologists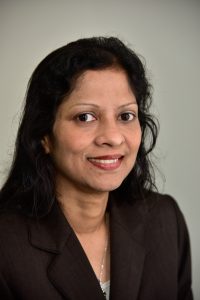 Morgan State University's School of Computer, Mathematical and Natural Sciences (SCMNS) has announced its receipt of a $499,999 grant award from the National Science Foundation (NSF). The Excellence in Research (EiR) grant will be used to advance interdisciplinary research at the interface of biology, chemistry and engineering with a focus on studying the role of nanoparticles in cyanobacterium for enhanced biofuel production. The project, titled "Excellence in Research: Oxidative Stress Induced Impact of Cell-Penetrating Nanoparticles on Cellular Constituents in a Cyanobacterial Model," is being managed under the direction of principal investigator Viji Sitther, Ph.D., associate professor of biology at Morgan, and her co-principal investigator, Huan Chen, Ph.D., a research faculty member at the National High Magnetic Field Laboratory (National MagLab), a user facility funded by the National Science Foundation and the state of Florida. The grant will fund the project until the end of July 2022.
"Dr. Sitther's partnership with the National MagLab represents an exciting step forward in the advancement of the missions of the School of Computer, Mathematical and Natural Sciences and Morgan State University," said Hongtao Yu, Ph.D., dean of the SCMNS. "This project enhances our research and scholarly activities as an R2 high research institution while providing our students with internship and graduate school opportunities. At a time when sustainable, carbon-neutral energy sources are needed more urgently than ever, Dr. Sitther's research is a valuable contribution not only to our university but to the world at large."
Morgan is one of several Historically Black Colleges or Universities (HBCUs) to have received an EiR grant. However, Morgan is the first HBCU to study the effect of nanoparticles on the protein and lipid content of a model cyanobacterium. Through this research, Dr. Sitther and her team will gain a comprehensive understanding of nanoparticle-cyanobacterial interactions that will offer far-reaching benefits for biotechnological applications, leveraging research in the areas of environmental-safe remediation, biosensing, and bioenergy. Once concluded, the research might make a huge positive impact on the environment by leading to the creation of an environmentally safe alternative energy source to replace fossil fuels.
Led by the two female researchers, the project will also serve to train and mentor underrepresented students in this specific area of the sciences, with an aim of enhancing the participation of women in STEM. With many members of the current workforce of biotechnologists preparing to retire within the next decade, some experts are projecting that the U.S. may face a shortage in the talent pool, particularly as it relates to minority populations. To start, a total of four students will participate in the research: two undergraduates, one master's-level student and one doctoral student. While all of the students will be mentored and trained in cutting-edge interdisciplinary research in the biofuel program at Morgan, graduate students will also have an opportunity to receive training at National MagLab.
"NSF awards (focus on) cutting-edge areas of basic research, and this project takes on an area of biofuel production where discoveries in nanotechnology have the potential to result in major advances," said Don Millard, deputy director of NSF's Division of Engineering Education and Centers. "Just as importantly, this award will enhance Morgan State's research capacity, creating new opportunities for innovation. Undergraduate and graduate students will be given the ability to enhance their STEM learning by actually participating in research."
Collaborations between the University and MagLab were first initiated in 2015, by Timothy Akers, Ph.D. an assistant vice president for Research Innovation and Advocacy at Morgan. Use of the state-of-the art facility at National MagLab has resulted in three peer-reviewed publications and this effort will continue through this funding.
The Foundation awarded these funds under the provisions of the NSF 18-522 Historically Black Colleges and Universities Undergraduate Program (HBCU-UP). While the majority of the award will be utilized by the University for big data analysis, work to characterize lipids will leverage the world-leading analytical instrumentation and expertise at the National MagLab. The research team plans to use a recently-launched 21 Tesla FT-ICR mass spectrometer at the MagLab's ICR facility, which provides the highest mass accuracy and resolving power in the field.
"This collaborative effort will facilitate the type of mentor protégé relationship that is most critical for training our next generation STEM Workforce and steadily increasing the number of women and underrepresented minority students," said Willie E. May, Ph.D., vice president for Research and Economic Development at Morgan. "Receiving the funding to support our collaboration with MagLab will be a 'game changer' for Morgan."
This latest grant marks a continuation of funding support that Morgan has received from NSF in recent months, including resources for SCMNS to launch the PERSIST Program as well as a separate one-year pilot program that will help increase students' proficiency and success in computer programming with the goal of retaining them as computer science majors.
The School of Computer, Mathematical and Natural Sciences comprises five departments: Biology (including the Medical Technology Program), Chemistry, Computer Science, Mathematics (including the Actuarial Science Program) and Physics (including Engineering Physics). The school offers three master's degrees — Bioinformatics, Mathematics and Science (Biology, Chemistry and Physics) — and two Ph.D. degrees: Bio-Environmental Sciences and Industrial and Computational Mathematics. Its mission is to provide comprehensive programs that will educate and nurture the next generation of scientists, mathematicians and technologists, and to advance the frontiers of science and technology through research and innovation in service to local, regional and global communities.
About Morgan
Morgan State University, founded in 1867, is a Carnegie-classified doctoral research institution offering more than 125 academic programs leading to degrees from the baccalaureate to the doctorate. As Maryland's Preeminent Public Urban Research University, Morgan serves a multiethnic and multiracial student body and seeks to ensure that the doors of higher education are opened as wide as possible to as many as possible. For more information about Morgan State University, visit www.morgan.edu.
About the National High Magnetic Field Laboratory
The National High Magnetic Field Laboratory is the world's largest and highest-powered magnet facility. Located at Florida State University, the University of Florida and Los Alamos National Laboratory, the interdisciplinary National MagLab hosts scientists from around the world to perform basic research in high magnetic fields, advancing our understanding of materials, energy, and life. The lab is funded by the National Science Foundation (DMR-1644779) and the state of Florida. For more information, visit us online at nationalmaglab.org or follow us on Facebook, Twitter, Instagram and Pinterest at NationalMagLab.
MEDIA CONTACT(S):
Larry Jones or Dell Jackson, University PR
(443) 885-3022
Kristin Roberts, for MagLab
(850)-644-1933