NFWF and NOAA Funded Project Provides Cause-and-Effect Support for Bay Reef Restoration to Spur Commercial Fishing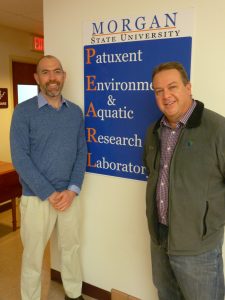 Morgan State University's Patuxent Environmental and Aquatic Research Laboratory (PEARL) recently completed a National Fish and Wildlife Foundation (NFWF) and National Oceanic and Atmospheric Administration (NOAA) funded project examining the potential impact of Chesapeake Bay oyster reef restoration on commercial seafood harvesting. The two-year study found that fully mature oyster reefs in the Chesapeake would yield a 150 percent increase to blue crab harvest and an estimated $10-million increase in annual fishing revenues in the region.
Led by Scott Knoche, Ph.D., director of PEARL, and Thomas Ihde, Ph.D., PEARL research assistant professor, the project charted an interdisciplinary effort comprising ecological and applied economics research for the comprehensive study. Personnel from NOAA, the University of Maryland and St. Mary's College of Maryland assisted PEARL in the project and collectively, the project team developed an ecological trophic (food web) model of the Choptank River System (a major tributary that feeds into the Chesapeake Bay). Food web models are integral in developing a holistic understanding of the aquatic ecosystem while providing researchers greater insight into the effects predators have on the vitality of oyster reefs. In this particular model, commercial fishers represented the top predators in the food web.
The results of the research were significant and provided a promising forecast for regional commercial fishing. Notably, this model predicted that fully mature restored oyster reefs in this area would substantially increase blue crab harvest, along with other species such as white perch. Using a regional economic impact model that accounts for this initial $10-million seafood purchase and the re-spending of these dollars throughout the region, the project team estimated that the increase in annual regional sales would exceed $20 million.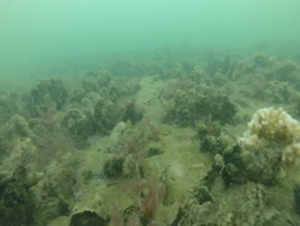 "What we discovered at the conclusion of our research highlights the potential ecological benefits and socioeconomic impacts from oyster reef restoration in the Chesapeake Bay," said Dr. Knoche.  "Resource managers and policymakers are increasingly seeking socio-economic information with respect to costly and controversial environmental restoration activities. Through an innovative multidisciplinary project incorporating expertise across the natural and social science disciplines, we provide these managers and policy makers with information that can help guide the development of improved natural resource management strategies."
The NFWF and NOAA backed project is one of many shining examples of the innovation and exemplary work emerging from PEARL's Saint Leonard, Md.-based facilities. For additional details or to learn more about the Chesapeake Bay oyster reef restoration research, the report will be made available online for review.
"The PEARL research results provide us with robust computer-modeled information on the effects that restored oyster reefs can have in the Choptank River system, including how reefs support commercially and recreationally important species," said Sean Corson, acting director of the NOAA Chesapeake Bay Office. "This information will be a key input as we work with our partners toward the Chesapeake Bay Program's goal to restore oyster populations within the 10 Bay tributaries by 2025."
About Morgan State University Patuxent Environmental and Aquatic Research Laboratory (MSU PEARL)
PEARL, part of Morgan's Division of Research and Economic Development (D-RED), is located near the Patuxent River in Saint Leonard, Md. Dedicated to solving complex environmental problems, PEARL applies interdisciplinary approaches to studying the connections between complex ecological systems, while providing society with knowledge to meet the environmental challenges of the 21st Century. The mission of PEARL is to provide society with the knowledge to solve its environmental challenges through research, education, and economic development.
PEARL programs provide essential data and innovative techniques for assessing the health of the Chesapeake Bay spanning four areas: aquaculture, coastal resilience, natural resource economics and environmental education. In its 22,000-square-foot laboratory and office building, PEARL maintains Class 100 and Class 1000 clean rooms, a fleet of vessels, indoor and outdoor flow-through ambient water facilities, oyster hatchery, large-scale algae production center and teaching laboratory, conference room and library.
About Morgan
Morgan State University, founded in 1867, is a Carnegie-classified doctoral research institution offering more than 100 academic programs leading to degrees from the baccalaureate to the doctorate. As Maryland's Preeminent Public Urban Research University, Morgan serves a multiethnic and multiracial student body and seeks to ensure that the doors of higher education are opened as wide as possible to as many as possible. For more information about Morgan State University, visit www.morgan.edu.
MEDIA CONTACT(S):
Larry Jones or Dell Jackson, University PR
(443) 885-3022