Morgan Class of 2019 graduate, Penelope Blackwell capped off her School of Global Journalism and Communication matriculation in grand fashion. Penelope, a District of Columbia native and Multimedia Journalism degree recipient, was recently awarded the 2019 Robert F. Kennedy Journalism Award for her significant contributions to an investigative reporting project aptly titled, "Hate in America."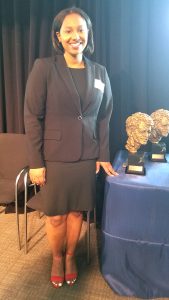 In association with the Carnegie-Knight News21, a national reporting initiative headquartered at Arizona State University's Walter Cronkite School of Journalism and Mass Communication, top-tier student-representatives from universities nationwide were assembled to participate in a collaborative investigative reporting project. Penelope was one of 38 top journalism students from 19 universities spanning 36 states to report and produce an in-depth, multimedia project. The 2019 fellows focused their journalistic talents on exposing acts of intolerance, racism and hate crimes in America culminating in the college category-winning submission, "Hate in America."
Working alongside students from across the nation, Penelope dutifully represented Morgan as the lone HBCU participant on the eight-month project.
"It's been a real joy to watch Penelope grow as a journalist over the past three years. She has been tenacious in her pursuit of the skills and experiences she needs to excel in journalism," said DeWayne Wickham, dean of the School of Global Journalism and Communication at Morgan State University. "This award is evidence of the success of her efforts."
Traveling to 36 states, including a 7,000-mile road trip around the country, the student journalists collectively conducted nearly 300 interviews — some from the middle of angry protests. The students also reviewed thousands of pages of court documents, FBI data and state and federal statutes to round out their reporting.
In all, their work included 12 digital stories, a 43-minute documentary film and a five-episode podcast following the life cycle of hate. The content was published and aired by major newspapers and news sites across the country. The student journalists found that more than 2.4 million hate crimes were committed across the U.S. between 2012 and 2016, based on an analysis of national crime statistics.
"I'm honored to have been a part of the 2018 News21 cohort," Blackwell said. "After piecing the eight-month investigation together, the project would not have been successful if it were not the people who shared their stories with us. I am very honored to have contributed to the project and couldn't be more excited to have won the RFK Award."
Jacquee Petchel, a Pulitzer Prize-winning journalist who serves as executive editor for Carnegie-Knight News21, said the project came at a particularly timely moment, just a year after the Charlottesville, Virginia, protests and clashes between white supremacists and counter-protesters.
"This project was an extremely challenging endeavor in which our student reporters were asked to report nationally on one of the most controversial political topics of our times," Petchel said. "And yet, in every encounter and interview, they found ways to tell the story of the oppressed and the oppressors, not matter how uncomfortable."
"Penelope is an extraordinary example of a young journalist willing to tackle a tough topic with passion and grace," Petchel said of Morgan's Blackwell. "She's exactly the kind of journalist I believe Robert F. Kennedy would want to be honored with this award because she sought truth and justice for the disadvantaged, even in the most uncomfortable situations."
Penelope received her coveted award at a ceremony held at the Newseum in Washington, D.C., on May 23, as well as a $500 prize and a bust of the late senator and U.S. attorney general. Following being awarded her degree during Morgan's 2019 Spring Commencement, she will pursue an advance degree at the Columbia University Graduate School of Journalism.