The 'Voice of the Community' WEAA 88.9 FM radio host Karsonya "Kaye" Wise Whitehead, Ph.D., was selected among the nation's foremost cultural purveyors and agents for change by ESSENCE magazine as part of its newly released list of "Woke 100 Women for 2019."
The curated list features a comprehensive collection of dynamic women spanning an array of fields and disciplines who are actively advancing the culture forward, elevating consciousness through art and literature, advocating for justice and equality, and exemplifying all that is #BlackGirlMagic.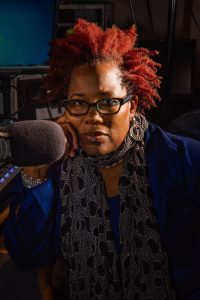 Whitehead (Dr. Kaye) hosts the award-winning radio show, "Today with Dr. Kaye" on WEAA 88.9 FM, the region's leading jazz, locally produced talk, public affairs and news programming station housed within Morgan's School of Global Journalism and Communication (SGJC). Best characterized for its edgy and unapologetically black presentation of topics that appeal to, and resonate with, the African American community, "Today with Dr. Kaye" features daily discussions that challenge and empower listeners' awareness politically, socially and culturally.
Dr. Kaye ranks among several of the world's most recognizable names in the "Woke 100 Women" listing including the likes of first lady Michelle Obama, CBS news anchor Gayle King, Olympic gymnast Simone Biles, and U.S. Representative Alexandria Ocasio-Cortez.
"When I saw Essence magazine, I was overcome with emotion. Being included in a group of women of such courage, vision, and strength –many of whom have inspired and challenged me to use my voice to tell stories that matter, to build community, and to advocate for change – is an unbelievable honor," Dr. Kaye said. "Given that our nation and world does not always value the voices and distinctive leadership of Black women, I believe that it is incumbent upon all of us to amplify the work that they are doing to bring about social justice, change, and equality. I certainly never thought that my research and writing and the work that I do in Baltimore, both in the community and on my radio show, would even be noticed at this level and in this way."
Dubbed the #BlackMommy activist, by ESSENCE in "Woke 100 Women," Dr. Kaye serves as a "much-needed voice in addressing issues such as gender and institutional racism in Baltimore." For nearly three years, Dr. Kaye has commandeered audiences with a deftness and balance that marries her keen insight and savvy intellect with a charisma that attracts a loyal following. In addition to the daily rigors of the radio show, Dr. Kaye authors the bi-monthly column, "Dispatches from Baltimore" for the Afro newspaper, and has authored five books, including I Speak for the Unforgotten: Dispatches from Baltimore, due out in December 2019.
"I hope that my work is a powerful reminder to Black girls—and to anyone looking for encouragement—that even if the world does not see you or value you and your work; you must see yourself, you must value yourself, and you must use your voice, your talent, and your platform to speak for those who are unable to speak for themselves," continued Dr. Kaye. You must speak for the unforgotten because that is how we get better and that is how your work (and your life) can have a much greater impact than you could ever imagine."
Morgan State University congratulates Dr. Karsonya "Kaye" Wise Whitehead for her continued contribution to the public discourse and remaining "woke" in the process.