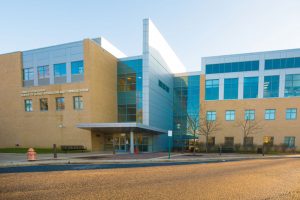 Morgan student Chloe Johnson, a junior in the School of Global Journalism and Communication (SGJC), was recently selected among some of the nation's top journalism students for an exclusive fellowship opportunity. The multimedia journalism major will join more than 30 students from 16 universities across the country participating in the annual Carnegie-Knight News21 investigative reporting intensive that will examine America's youth violence and the juvenile justice system.
An aspiring journalist, Johnson is no stranger to the craft and rigors of the industry. She has penned numerous stories for The MSU Spokesman student newspaper and currently serves as one of its staff editors. She supplements her time beyond Morgan's campus at WBAL-TV, where Johnson is gaining frontline experience supporting the station's newsroom, advertising sales department and community outreach team. This semester, Johnson is working on a joint investigative news reporting project in collaboration with students from North Carolina A&T focusing on the prevalence of African American incarceration, a similarly focused effort and prelude to her News21 fellowship.
"When I think about the skilled journalists who've entered the News21 program, I am continuously left in awe because I know now that I am one of them," said Chloe Johnson. "Now…I can look forward to…being in Arizona, fulfilling my passion and writing stories with purpose."
This year, News21 student journalists will focus their efforts on investigating disparities in sentencing and jail time, conditions of juvenile detention facilities and the impact on families, communities and victims. Fellows will travel across the country to report stories, and their work will be published as a multimedia project online and shared with industry partners across the country.
"We think we will find a country struggling with how to deal with youth violence, both on the preventative end and the punitive end," said Jacquee Petchel, executive editor for News21. "It's a topic critical to the future of children and teens, not to mention both their families and their victims."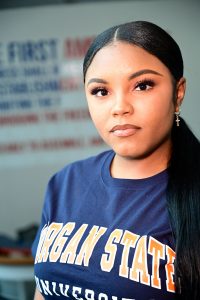 Johnson will move into a paid summer fellowship, during which she will work alongside other News21 selected journalism students. The students will work collaboratively out of a newsroom at the Cronkite School and travel across the country to report and produce their stories. The stories and multimedia pieces that are produced will be published to a website designed specifically for this year's investigative piece: disparities in sentencing and jail time.
Enthused about the News21 experience and the professional development that awaits, Johnson added, "nothing beats the anticipation of getting the chance to build connections with people from other places, and experience environments, I otherwise would have never seen. I have no doubt that this experience will give me the tools to propel in my career path.
Morgan Class of 2019 graduate, Penelope Blackwell, was a News21 fellow and earned a Robert F. Kennedy Journalism Award for her significant contributions to the investigative report "Hate in America." The 2018 News21 project she was involved in also won an Edward R. Murrow Award.
Headquartered at Arizona State University's Cronkite School, News21 was established a decade ago by the Carnegie Corporation of New York and the John S. and James L. Knight Foundation to demonstrate the emerging talent and skills of today's journalism students and their ability to produce innovative, in-depth multimedia projects on a national scale. The initiative is led by News21 Executive Editor Jacquee Petchel, a Pulitzer Prize-winning journalist and professor of practice at the Cronkite School.
Past investigations and information on the News21 program can be found at news21.com.